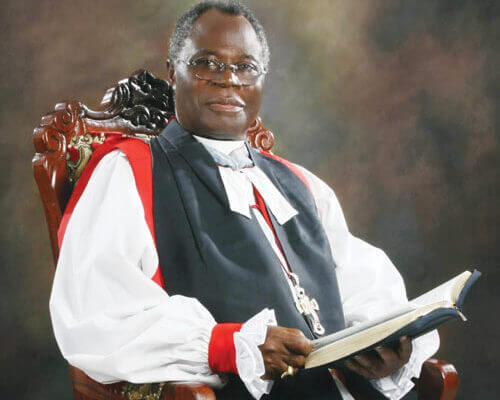 Peter Awelewa Adebiyi; clergy of the Anglican Communion,  advocate of political restructuring, true federalism and good governance. Peter Adebiyi was for 14 years the Bishop of the Diocese of Lagos West; first Bishop the Diocese. His first three years were spent in Owo Diocese where he was Bishop. Peter Adebiyi, retired in 2013 as the Bishop of the Diocese of Lagos West Anglican Communion after 46 years of service as a clergy. In those years, Adebiyi have had to be accosted by men of the State Security Service (SSS) even whist he was still a venerable. Adebiyi was in the class of NADECO and human rights crusaders, including Admiral Ndubusi Kanu, Ayo Opadokun,  Yinka Odumakin and Popoola Ajayi.
Peter Adebiyi was born April 27, 1943 at Osi-Ekiti to a somewhat educated father, Samuel Ogunmola and mother, Alice Fatinuwe 1. Immediately after he graduated from the University of Ife, Adebiyi got employment from six organisations but didn't take any of the jobs because he was already a priest. On the day of the Gideon Orkar's coup, Adebiyi drove to Dodan Barracks where military oligarchs were holding a meeting to deliver his boss's,  Abiodun Adetiloye's  letter to the military Vice President, Augustine Aikhomu. Coup plotters however were executed on the evening of that day even when the meeting was ongoing 2.
In the Third Republic, Adebiyi was an ex-officio member of the National Executive Committee of the  Social Democratic Party (SDP). He was very active during the NADECO's struggle for the restoration of Moshood Abiola's mandate as the winner of the historic June 12, 1993 presidential election on the platform of the SDP. He suffered the harassment, repression and intimidation in the hands of the military. Adebiyi was until his death in 2014, Special Adviser to Lagos State Governor Babatunde Fashola on Southwest Integration. He had served under the administration as the Senior Special Assistant in Political and Legislative Matters. He was also an Executive Assistant to Osun State Governor, Bisi Akande. An Afenifere chieftain, he was the unsalaried Personal Assistant to the Afenifere Leader, Abraham Adesanya 3. A citation on Peter Adebiyi was delivered by ace journalist, Dare Babarinsa on the 70th birthday of the Bishop at the at Archbishop Vinning Memorial Church Cathedral, Ikeja, Lagos 4.
 
1. Vanguard June 8, 2012
2. Nation May 5, 2013
3. The Nation December 19, 2014
4. Sun April 27, 2013