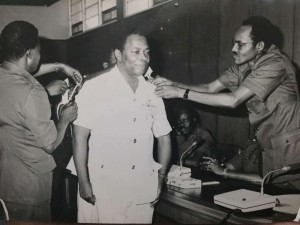 Aikhomu Augustus; Nigerian Naval Officer who served as the de facto Vice-President of Nigeria during the Ibrahim Babangida military junta from 1986 to 1993. Also once a Chief of General Staff, Aikhomu was the first naval officer to be promoted as an Admiral in black Africa. He was the first signatory to the document which authorized formation of an Interim National Government (ING) to be headed by businessman Ernest Shonekan following the annulment of the June 12 1993 presidential election[i]. Aikhomu was eulogized at his death by his former boss as "a firm man who paid attention to all details of any assignment that came before him, handling everything with a great sense of maturity.[ii]"  He was a recipient of the national honour of Grand Commander of the Order of the Niger GCON.
Places of Growth
Aikhomu was born on October 20,1939, in Irrua- lshan, Edo State. He had his education at Irrua Government School; Yaba College of Technology, 1954 -195 8; Royal Britannia Naval College; Long Gunnery Specialist Course, India, and the National Institute of Policy and Strategic Studies, 1982.
Family
Ehime, first son of former Admiral Augustus Aikhomu was among the 165 killed in Dana plane clash in Lagos which occurred on June 3, 2012[iii].
Education
Aikhomu attended Yaba Technical Institute (now Yaba College of Technology, Lagos), Royal Britannia Naval College, Royal Naval Engineering College of both in England), Defence Service Staff Course, India; and National Institute of Policy and Strategic Studies, NIPSS Kuru Jos.
Experience
He was commissioned sub-lieutenant, Nigerian Navy in 1964 and rose through the ranks to become Chief of Naval Staff in 1984. He was the commanding officer, in Shore Patrol Crafts; Commanding Officer, NNS-Dorina\ chief of personnel, Naval Headquarters; chief of Naval Operations, 1983-1984, and Chief of Naval Staff, 1984-1986. Aikhomu was a member of the Armed Forces Ruling Council and a fellow, Nigeria Institute of Management NIM. He later became the chairman, Nigeria Alliance Assurance Corporation and Board of Trustees. All Nigerian Peoples Party, ANPP[iv].
[i] The Guardian June 12, 2013
[ii] Newswatch October 3, 2011
[iii] Daily Sun June 4, 2012
[iv] Insider October 2, 2006