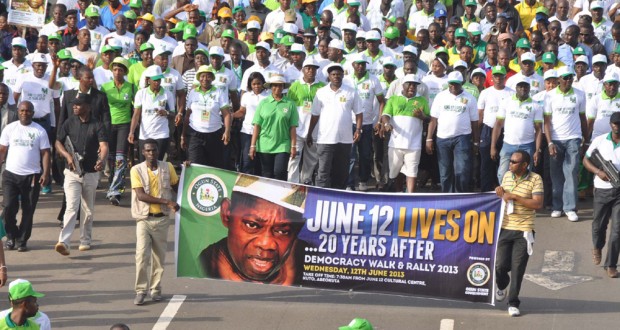 June 12 is a holiday celebrated in many Nigerian states, declared by the Federal Government of President Buhari as a national holiday. June 12 commemorates the Nigerian presidential election of 1993 which has been described as the nation's freest and fairest election and its first taste of true democratic process after years of military rule. The two aspirants for the presidential office were Moshood Kashimawo Olawale Abiola (better known as MKO) of the Social Democratic Party and Bashir Tofa of the National Republican Convention. Being a well known philanthropist, business magnate, a popular figure with most Nigerians, and a man of many women, Abiola easily won the election, having about 60% of the votes. The ruling military government with General Ibrahim Babangida as the head of state however annulled the elections on June 23.




The annulment led to series of crises and unrest in the nation which are extant till date. In 1994, during General Sanni Abacha Regime, Abiola agitated publicly for the election he had won and he was subsequently arrested and charged with treason. While in government custody, Abiola was deprived of outside news and proper medical care. A number of his supporters were also assassinated during this time including his wife, Kudirat Abiola. After the death of General Sani Abacha in June 1998, Abiola's release seemed imminent. He however died suddenly under mysterious circumstances on July 12, 1998, moments before his release by the General Abdulsalami Abubakar Regime. Although heart attack was declared officially to be the cause of his death, it is widely rumoured that he was poisoned.
The circumstances that surrounded the June 12 elections and Abiola's death were so grievous to Nigerians that until the late '90s, June 12 was commemorated with demonstrations, bonfires and cessation of transportation services throughout the day. Now, the day is more peaceful and more like a holiday than a day of unrest.