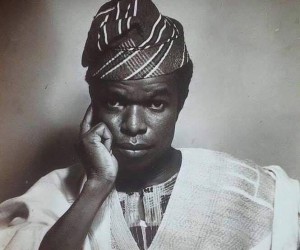 Abraham Adesanya was a political leader, honored in the line of Obafemi Awolwo and Adekunle Ajasin as Asiwaju of Yorubaland. Adesanya was born on 24 July 1922 in Ijebu Igbo to a popular traditional healer, Ezekiel. His secondary education was at Ijebu Igbo Grammar School. After working briefly as a tutor, he had travelled to study Law at the Holbon College. Adesanya joined Awolowo's Action Group upon his return to Nigeria in 1959 and was elected the same year into the Western House of Assembly. Against the judgment of his Ijebu Igbo people who wished to have their own as governor, he had opted for a seat at the federal legislature as Senator, where he pursued the principles of his Awoist ideology in the Nigerian Second Republic between 1979 and 1983. Some two decades before then, he had led a team of lawyers in defense of Obafemi Awolowo during the political controversies that preceded the fall of the First Republic.
Refusing to join compatriots in exile during the very repressive General Sani Abacha rule, Adesanya stayed and conducted fierce opposition against the military government through the then all-popular National Democratic Coalition (NADECO).
Fifteen years after, when democracy fully returned to Nigeria, Abraham Adesanya formed a coalition consisting majorly of former Awo allies, and those who profess his ideologies. His political party, the Alliance for Democracy dominated the South West till 2003 when the region joined President Obasanjo's more central People's Democratic Party. For some five years, Adesanya's illness confined him to his Lagos Apapa residence where his role in the Awoist renaissance group Afenifere which he headed became advisory. He died 27 April 2008. The Mercedes Benz car he was sitting during the January 1997 attempt on his life has been transferred to a Lagos museum.