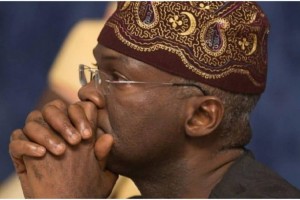 Babatunde Fashola is the Thirteenth governor of Lagos State, (2007-2015), publicly acclaimed for his analytical skill and administrative competence. He is a recipient of the 2009 Yitzhak Rabin Centre for African Development Governor of the Decade Peace award and the 2010 Award of Excellence in Leadership of the Martin Luther King Jnr. Foundation.
Born on 28 June, 1963 to Ademola Fashola whose great-grand father was Bello Fashola, a philanthropist who supported Eleko Esugbayi during his struggle with the Lagos Colonial government. Babatunde schooled at Sunny Fields Primary School, Birch Freeman High School, Igbobi College and the University of Benin, Benin City and graduated with a Bachelor of Laws [LLB Hons] degree in 1987. He was called to bar the following year.
His legal career of fifteen years commenced in the law Firm of Sofunde, Osakwe, Ogundipe an d Belgore, where he began as a litigator over several arrears of specializations, acquiring vast experience. He was conferred with the Rank of Senior Advocate of Nigeria (equivalent to The Queens Counsel) in 2004. He was appointed Chief of Staff by Governor Bola Ahmed Tinubu who he later succeeded in office.
As governor, Fashola has succeeded in radically increasing the internally generated revenue of the state, and he has reduced crime by over 60 percent with his Security Trust Fund initiative. With cooperation of the Clinton Foundation, he had developed the largest modern integrated solid waste management system in West Africa. His world-model Bus Rapid Transit system is the first in sub-Saharan Africa. In his first term as governor, he had embarked on an aggressive campaign to revamp the face of Lagos. Following the success of his party in the 2015 elections, President Buhari appointed Fashola to multiple roles of heading the ministries of Power, Works, and Housing.