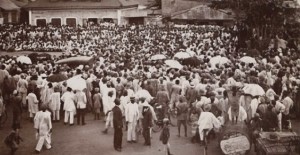 People's Union, often taken as Nigeria's first political party was a pressure group formed in 1908 during the Water Rate agitation in Ilupesi by John Randle and Orisadipe Obasa who were physicians, with white cap chiefs Erelu and Asogbon. Other key members were Kitoyi Ajasa, Akinwande Savage, Adeyemo Alakija, and others. The People's Union was formed ostensibly to resist the water rate proposal of the previous year passed by the Legislative Council. Although this group enjoyed the support of the people, it soon went underground, after the warnings of the Secretary of State, who, in the mood of the First World War successfully blackmailed the leaders into compromising.
Leading members of the Union were conservative but there were a few progressive elements like Ernest Okoli. The People's Union had been formed at a mass meeting at Enu Owa, with a resolve to embrace peoples of different religious orientations, as to create, for the first time probably, a politics divested form religion. It was for this reason that the Union, also called the People's Committee turned down an offer of merger with the Lagos Auxiliary of the Aborigines Protection Society, an organization founded on Christian humanitarianism, which will later eclipse it.
The Union toured the western region in 1911 to sensitize people against moves by Lord Lugard, Governor General of, to alter traditional land tenure laws in Southern Nigeria by declaring all lands government property. Until 1915, their opposition was passive, but Lugard's attempt to reintroduce the rates in the face of dwindling opposition rekindled the movement. Meetings in the group, often attended by prominent Lagosians, Muslim leaders, and indigenous chiefs often end in the drafting of petitions which was conveyed to the colonial administration. When Randle and Obasa, leaders of the People's Union in their desire to register their support to the imperial powers in war, proposed a liberal resolution to their allies consisting of indigenous elements, they were rejected. The movement lost its vigour after the 1916 protests and market strikes which the two founders of the People's Union hardly approved. Discontent was thus created between it and its important allies, who interpreted the Union's centrist approach as betrayal.
Although the passion displayed in the activism of the Union has been criticised by historians as exploitative, and ingenuine, it may have prepared the people for the new wave of bolder, and more broadly scoped anti-colonial organizations to follow. The People's Union went into extinction with the death of JK Randle in 1928. While existing, it never constituted challenge to the country's first substantive political party, the Nigerian National Democratic Party.