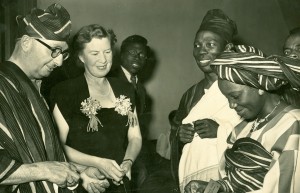 Adeyemo Alakija was born Placido Assumpcao in 1884. He changed his name to the original family name, Alakija in the year he was called to Bar in the London Inner Temple, 1913. This was possible because his family knew of their origin in Abeokuta. His father was one of the Yoruba Brazilian slaves who returned to Nigeria and decided to stay in Lagos in the mid nineteenth century. It was a given that Alakija would be among the emergent aristocrats in the 19th Century Lagos, as he was favored both by the education he had in the Law School and in Oxford.
As a lawyer, Adeyemo Alakija was successful. Also, his family was among the most eminent within the Brazilian returnees community. His Europeanized lifestyle was typical of this class of people. His opulent house at Custom Street, off Marina in Lagos Island or the racehorses in front that seemed like the emblem of his status were always a delight to the eyes. It is quite explainable why he was conservative. Alakija believed his aim was to act as the bridge connecting the two sessions; British and the natives. To understand the white man's view and interpret it to his countrymen and to interpret to Europeans the needs and aspirations of his countrymen.
Alakija co-founded the Daily Times newspaper in 1926, the tabloid which will dominate for the next few decades. Of course the paper was pro-government but profit was made still because of the patronage of European firms who placed adverts. This was the norm of journalism in his time, for none would have survived without the support of biased financiers. The International Publishing Corporation of London took over the Daily Time enterprise in 1948.
Adeyemo Alakija was apt at cultivating the government and he shared with Henry Carr, the Sierra Leone returnee educationist, a deep resentment of Herbert Macaulay's anti-British views on the Esugbayi Eleko (Oba of Eko) affair. As far as he was concerned, Eleko was not fit, either by temperament or by gifts, to be Oba. Around this time, Adeyemo Alakija ran unsuccessfully for a seat in the Legislative Council. He however, was appointed to represent Abeokuta from 1933 to 1941. He was knighted in 1945, the same year he became the first president of Egbe Omo Oduduwa, (League of Oduduwa's children) which became the nucleus of Obafemi Awolowo's Action Group. As a Freemason, he had introduced certain symbolism from this worldwide organization into the Yoruban Reformed Ogboni Society which he co-founded. Adeyemo Alakija was also President of the Nigerian Youth Movement and the Vice President of the Nigerian Football Federation. He died in 1952.