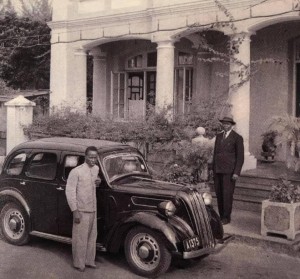 Kitoyi Ajasa was a key figure in Colonial Lagos born in 1866. His original name, Edmund Macaulay was relinquished upon his attainment of full qualifications as a lawyer in London. His family had returned from Sierra Leone upon their emancipation by British anti-slavery squadron to Ajase and afterwards, Lagos. At the age of 14 he was taken by an apparently philanthropic European to England and enrolled in a grammar school where he played cricket. As leader of the sports club he imbibed the tact and integrity that will characterize and when misunderstood, irritate his contemporaries in Nigerian politics, years after. For his ideas and idiosyncrasies, it was certain that he would attract foreign merchants and power brokers to himself. He did, and as a lawyer represented many as attorney, becoming therefore, successful in his career. In 1902, Kitoyi Ajasa succeded Adegboyega Edun in Lagos Institute, an intellectual group founded by colonial Governor Mac Gregor to promote discussions of public questions.
Kitoyi, as publisher of conservative Nigerian Pioneer, established in 1914, used the medium to counter the radicalism of John Payne Jackson's Weekly Record. In same year, he joined politics and was elected to the Lagos Legislative Council and the Council of the freshly amalgamated Nigeria. The People's Union, a political platform which he controlled together with conservatives like Akinwande Savage and Adeyemo Alakija, stood opposed to Herbert Macaulay and his Democratic Party. Kitoyi enjoyed the patronage of the British whose purpose he served, and he enjoyed the friendship of Governor Lugard who was instrumental in the status he was bequeathed with by the British Royal, the first to be so honored. His ideas pitched him against Herbert Macaulay, who affiliated himself not with the British but with traditional elements and Muslims who showed concern for the indigenization of policies and responsibilities.
The Nigerian Pioneer newspaper founded by Kitoyi Ajasa invited greater reproach than any newspaper perhaps. His trust in English tradition, which he adjudged as having crystallized from several centuries of experimentation was carried into his naive trust in British officials of his time. Choosing to be modest in his public opinion at a time when it was best to be radical, Kitoyi Ajasa became the object of many people's attack. He was described, for example, by Thomas Horatio Jackson as having an habit of retiring into "inglorious silence before the finale of any discussion he may have provoked." This temperament of his drove him away from the company of many of his contemporaries when party politics began in 1923, and he fraternized only with men like Dr. Henry Carr in what he considered a cleaner and surer road towards African emancipation. Kitoyi Ajasa ingratiated himself also to successive governors, but his intellect was never in question. He later rose to the position of a Judge in the High Court of Lagos.