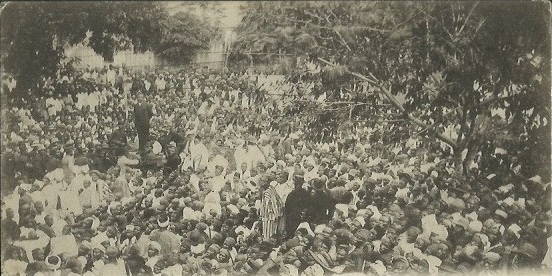 Anti-Slavery and Aborigine Society was a group formed as a corrective against the imperfections of the Crown Colony systems. Lagos Auxiliary of this society, founded by Christopher Sapara Williams in 1905 was described by Gbadegesin in a 2006 doctoral thesis to the Emory University as an equitable opposition coalition that was characterized by extralocal engagement and broadly applicable rights issues. The organization, which was a dependency of the London society was in response to the invitation of Sir Thomas Fowell Buxton, who as published in 12 August 1912 Nigeria Chronicle papers, asked enlightened and humans Africans to form responsible committees to help the Society in its work of watching over the liberties of subject people. The Lagos Auxiliary's alarm of an impending threat to customary rights brought it into people's consciousness. Although the London delegation appeared to have presented an unfounded case rather than one based on any actual imperial coercion or deprivation, the activities of the association stirred the involvement of new elements in political affairs and for the first time, brought together educated Lagosians with chiefs from the interior. It was upon this platform that the nationalist, Herbert Macaulay rose into eminence.
In April 1911, the society questioned the Foreshaw decision which sought to apply the cession terms of 1861 appended to by King Dosunmu of Lagos and to enact a similar land tenure system to one practiced in the North in which the colonial governor controls all land. "Dosunmu had tried to give what was not his', they argued, 'for the land belonged to the White Cap chiefs." In 1913, the society presented its case before the West African Lands Committee of the British Parliament.
The Aborigine Society, though looking to uphold the rights of Africans in their own land also shared in the 19th Century missionary idea which was rather denigrating; that the African was primitive and a savage. The Christian humanitarian approach of the organisation designed to help the savages proved attractive to Lagos elites. When it proposed a merger with the People's Union, a more transient group which sought to secularize political affairs, the invitation was turned down for the same reason. Ultimately, the Aborigine Society dwindled due to the failure of its leadership to cooperate, and also because of its difficult London alliance.