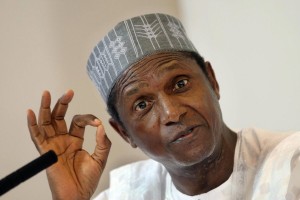 Umar Yar'Adua; President of Nigeria from 2007-10, brother to Shehu Musa Yar'Adua, general and former military vice president. Yar'Adua's career in politics started while he was a lecturer. He became an active member of the People's Redemption Party PRP in the First Republic. His identification with the party is often tied to his belief in the Marxist principle moreso because the party identified with the masses, tatakawa[i].
Obasanjo favoured Umaru Yar'Adua who was ending his term as governor of Katsina State and Goodluck Jonathan his Bayelsa State counterpart, as Presidential and Vice Presidential candidates respectively. Yar'Adua would later concede the 2007 elections which brought him to power was severely flawed as he enacted the process for electoral reform. Though a product of his predecessor, President Obasanjo, Yar' Adua does not seem to score Obasanjo's policies high. His blue-print on the economy, power and energy, education, health, oil and gas, and security are remarkably at variance with Obasanjo's[ii].
Places of Growth
Born in Katsina in 1951, Umaru started his primary education at the age of seven at Kafukka Primary School, Katsina, he completed his elementary classes at Dutsinma Boarding Primary School in 1962. Secondary school was at Government College, Keffi, in present-day Nasarawa State, and Barewa College, Zaria, where he got his Higher School Certificate between 1970 and 1971.
 
Family
Yar'Adua married Katsina bred Turai in 1975, who in 1983 obtained a bachelor's degree in Education from Ahmadu Bello University, Zaria. Her alleged role in deputizing for the president was buoyed by
the president's failing health and constant medical check-ups abroad[iii].
Education & Work
Yar'Adua obtained his Chemistry/Education degree from ABU In 1975 followed by a master's degree in Analytical Chemistry from the Ahmadu Bello University, ABU, Zaria. After his National Youth Service Corps, NYSC, in 1976, Yar'Adua became a lecturer at the Katsina College of Arts, Science and Technology. He was appointed lecturer, Kaduna State College of Arts, Science and Technology, 1976; senior lecturer and head, Department of Science and Mathematics, Katsina Polytechnic.
Politics
In 1988, Yar'Adua was elected as a member of Constituent Assembly, representing Katsina. He was elected governor of Katsina State, 1999 -2003. Yar'Adua became the President in 2007[iv].
Presidency
Yar'Adua who had earlier publicly declared his assets as the Governor of Katsina State -the first governor to do so in the country, repeated the same as president in a move widely interpreted as a resolve to lead by example in forming a transparent and accountable government[v]. Yar'Adua's administration initiated the amnesty programme in 2009. The programme substantially, reduced the violence associated with youth agitation in the Niger Delta, thus increasing Nigeria's oil producing capacities[vi].
With Yar'Adua, the Multi Year Tariff Order MYTO was intended to be an intrinsic part of the privatization scheme of the power sector led to increased bills for Nigerians without any benefit in sight.  This was because the president halted the privatisation of the Power Holding Company of Nigeria as soon as he came to office without reversing the MYTO[vii].
 
[i] Tell January 8, 2007
[ii] TheNews May 7, 2007
[iii] Tell June 2, 2008
[iv] Westerner August 31, 2009
[v] Punch May 23, 2015
[vi] Punch May 30, 2015
[vii] Punch July 26, 2013