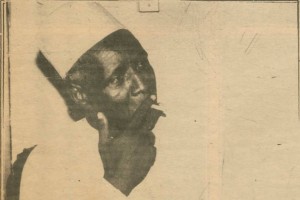 Shehu Musa Yar'Adua, Nigerian civil war hero and politician. Born March 5, 1943 Shehu Musa Yar'Adua was the son of an aspiring politician who later became the first minister of Lagos Affairs during the First Republic. He retired as a major-general occupying positions of the Chief of Staff, Supreme Headquarters  which made him de facto, the second to the Head of State. As the man in control of the Social Democratic Party SDP machinery on which platform MKO Abiola contested for presidential election in 1993, Yar'Adua turned around to support the new Interim National Government contraption, bringing to power the puppet Head of State, Ernest Shonekan[i].
Trained at the Royal Military Academy, Sandhurst, in the United Kingdom, Yar'Adua became a brigade commander during the civil war, staying at the war front throughout the hostilities. He came into national prominence in 1976 following the assassination of General Murtala Muhammed when he became Chief of Staff, Supreme Headquarters. The assassination of General Murtala Mohammed in a bloody but abortive coup, shot General Obasanjo and him to the highest and second highest political offices in the country respectively[ii]. Yar'Adua retired as a major-general in 1979 at the age of 42. Subsequently, he veered into high Stake business and politics.
During General Sani Abacha's regime in 1995 he topped the list of the alleged coup plotters who were sentenced to death, but only narrowly escaped execution. The problem began early in the life of the Abacha regime when in January 1994, Yar'Adua at a press conference, called on Abacha to announce his political transition programme and set his departure date. The rpgime did not find that amusing. Yar' Adua's PFN, was to rub salt into the regime's injury when it got the constitutional conference to set a terminal date for the military administration. Everyone knew that dealing with the "PFN nuisance" was only a matter of time for the regime. A couple of months later, Yar'Adua and a host of others were answering questions before a military tribunal headed by Brigadier – General Patrick Aziza, which sentenced him to death. The sentence was later commuted to 25 years imprisonment by the Provisional Ruling Council (PRC)[iii].
Because of political stature which made lieutenants find their ways to contact him in prison, he was moved from Port-Harcourt and Enugu Prisons; finally to Abakaliki Prison where he died on December 8, 1997[iv]. Shehu Musa Yar'Adua was brother to Umaru Yar'Adua, president of Nigeria from 2007-2010.
[i] Tell May 20, 1996
[ii] Majesty October 10, 1995
[iii] Punch July 20, 1996
[iv] Tell December 22, 2003