Olusegun Obasanjo, Nigerian civil war hero on the federal side, Statesman, and Head of the federal government as military general, 1976-79, and elected president, 1999-2007. Obasanjo, descendant of asylum seeker in aftermath of Ijebu-Ife onslaught against Owu, Adegboye, whose son, Ojopola arrived in the new Owu settlement in Abeokuta to give birth to, among others, Taiwo Bankole, whose fourth wife gave birth to Obasanjo-Egbesanya, father of Olusegun Obasanjo.
Being born to illiterate parents, the date of Obasanjo's birth is uncertain, but he assumes 15th of March in the year he discerned to be between 1934 and 1937. His infant years was in Ibogun Olaogun, a village west of Ifo, which was occupied predominantly by the Owu people. His school life began in 1946 when his elder cousin, Amos, took him to  St. David's Anglican Primary School in the neighboring village of Ibogunsowunmi.  Although the sudden lost of focus by his father caused by chronic alcoholism threatened his education and stalled his sister's, Obasanjo's mother took to odd jobs to supplement funding for his education. Obasanjo's first city-school experience was at Owu Baptist Day School where he supported himself carrying crush stones, working as laborer in other people's farm, and planting maize and cassava of his own during holidays.
Students of Owu Baptist Day School look forward to continue their studies at Baptist Boys High School and Obasanjo was no exception. In 1951, he joined the BBHS, earning a scholarship in his third year. He succeeded in London GCE exam which he, against school precept, took prematurely in his penultimate year in High school. By January 1957 he started work at the United Africa Company of Nigeria in Ibadan but left early; disappointed there was no way he could expose his talent. While he taught Mathematics at the African Church Modern School, Ago-Taylor, he sought for admission to higher college feverishly. The offer from University College Ibadan was not accompanied with a scholarship and before he could act on the UN offer to study geology in the US or India, he had fallen to the allure of the army. Having passed the officer cadet examination the year before, Obasanjo on March 1958 left Ibadan to be enlisted at the military barracks in Apapa as a soldier.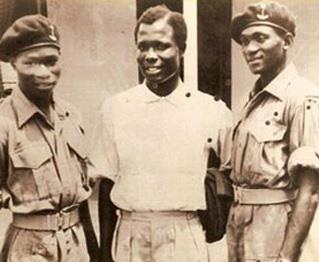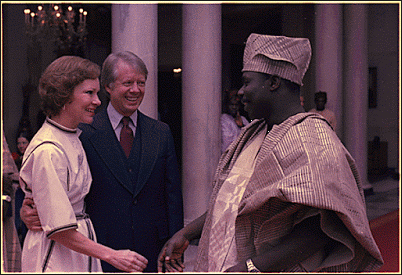 In his first trainings in Teshie, Ghana, Obasanjo had to his surprise, encountered his Yoruba kinsman who provided useful guidance during a difficult lone map reading intelligence and endurance exercise. Obasanjo advanced to the post of a Corporal with his assignment to the UK for further military education, which followed Ghana's closely. While in the UK, news of his mother's death came. During his training at the Aldershot military garrison city, he opted to be called Joe, for his name was hopelessly difficult for the British tongue.
 
Military Career
Obasanjo returned to Nigeria in November 1959 to join the fifth battalion of the Nigerian military force newly formed from the West African Regiment of the British Army in Kano. Soon, he settled to regimented life in Kaduna where, in lieu of independence celebration preparations that occupied most units in the south, his "fighting fifth" prepared to go keep peace in the newly independent Congo Leopoldville. At his request, he was transferred to the corps of engineers. After six months of post-degree course in Chatham, and another nine months at the Newbury School of Survey, he joined his fellows in the corps in real professional activities. While in Newbury he  married his girlfriend of the Owu Baptist Church choir, Oluremi. Before another course at the Defense Staff College, Wellington, South India, he had made acquittance of Chukwuma Kaduna Nzeogwu, the man who led the first military intervention in Nigerian politics in January 1966. Chukwuma's handling of the first coup in which Premier of the North, among others, were murdered provoked widespread pogrom for his kinsmen, the Igbos. Once, Obasanjo's colleague in the corps of engineers knocked at his door at night, drunk, and asking for permission to kill all Igbo officers within his unit. The drum of war was getting louder; the Nigerian Civil War of the 1967-70, known as the Biafran War.
 
Role during Civil War
While rebellion from the East raged, military Head of State, Yakwubu Gowon had Obasanjo posted to Ibadan to head the area command. When a change in leadership became necessary at the war front, Obasanjo was tipped to take the command of the Third Marine Commando from Benjamin Adekunle with whom he had trained in Teshie.
When news of rebel soldiers reaching Ore got to Obasanjo, he briefly considered suicide, but then utilized staff and engineers originating from the West skillfully in beating off the separatists. A final victory was achieved after a long stalemate, caused largely by Biafran diplomatic achievements. Obasanjo supervised the separatist submission to federal authority in 1970.
As if to prepare him for political leadership that lay ahead, Obasanjo was nominated for the Royal College of Defense Studies in the UK. There, he researched British aid to Nigeria and concluded aids had been largely in the self interest of the giver. Obasanjo was appointed federal commissioner for Works by Yakwubu Gowon in 1974. Gowon's leadership declined inspite of his success in war, and inspite of the oil boom. The coup that took him out of power brought in the trio- Murtala Muhammed, T.Y. Danjuma, and Obasanjo. When the new Head of State, Murtala, was killed in yet another coup led by Dimka, he rose to the seat. As number one, Obasanjo pursued most of the policies of his late predecessor. On October 1 1979 he handed over power to a democratically elected president, Shehu Shagari, the first African to so do.
 
Post-Military Life
Obasanjo's life after the military was dominated by farming and activities of his NGO, the African Leadership Forum which sought to groom a new generation of leaders. As a member of the Commonwealth Eminent Persons Group, he went to apartheid South Africa in 1986 and met Nelson Mandela, whose freedom he worked for as Nigerian leader, as did successive heads of Nigerian government. Through his involvement with the InterAction Council , a group of former Heads of State in the world, Obasanjo became  a contender for the office of the Secretary-General of the United Nations. The race was lost to Egypt's Boutros Ghali in 1991.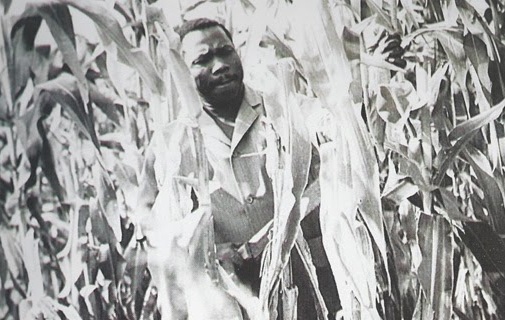 In the national front, Obasanjo was to form a coalition across ethnic lines to mount pressure on Babangida, who had been instrumental in his UN bid, to relinquish power. His non-insistence on the June 12 election, however, and failure to bond with Awoists diminished this contribution. Obasanjo was arrested on charge of coup-plotting by the General Sani Abacha regime in 1995 apparently to contain his growing opposition to the dictator's government. Abacha died and Obasanjo was released by the new government of Abdusalami Abubakar a week later, on 15 June, 1998.
 
Presidency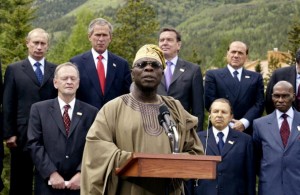 Shortly after winning the presidential elections, which was eighteen months after his release, Obasanjo launched himself to utilizing international ties developed in his interregnum years after military power to garner goodwill and favours for his government. As President-elect, he met President Clinton of the US, and on meeting Tony Blair, Prime Minister of UK, he began a process that earned Nigeria debt relief from Paris Club creditors.
To forestall the re-occurrence of coup-de-tats, Obasanjo compulsorily retired top military officers who had held political offices. He initiated through an international conference on HIV/AIDS, a global partnership and locally, an institution- NACA (National Agency for the Control of AIDS) which did well in educating Nigerians about the scourge. Reforms in public service, pension scheme, and banking sector was pursued with strategies drafted by persons handpicked by him in providing framework of action. Obasanjo's NEEDS was re-invented by the IMF and World Bank as "Policy Support Instrument," offered to other countries as example. Bringing his experience at the Transparency International which he helped form to bear, Obasanjo sponsored his anti-corruption bill to the National Assembly, and established the EFCC, which, though successful in many of its objectives, was accused by the opposition as discriminatory. Horrified while in prison by the inadequacy of the wages of his warders, Obasanjo reviewed wages of civil servants upward, but monetized basic amenities for public officers to cut waste[1].
 
Second Term
The pride of the President Obasanjo administration was the economic team which was the brain behind the success of the administration in the area of economy, the debt relief and the huge foreign reserve that was a selling point for the government. That team was led by Ngozi Okonjo-Iweala, the  minister of finance; Chukwuma Soludo. A professor and governor of Central Bank of Nigeria, CBN; Oby Ezekwesili, former minister of education; Nenadi Usman, Nasir El-Rufai,  minister of Federal Capital Territory, FCT; Ifueko Omoigui, chairman. Federal Inland Revenue Service, FIRS; Bode Agusto, director-general, Budget Office: and Irene Chigbue. Director-General, Bureau of Public Enterprise, BPE; as members. Ezekwesili was in charge of due process before she was deployed to the education ministry, saving the country money that would have been lost to over-invoicing.  Soludo  led what was believed to be an impossible revolution in the banking industry in Nigeria. He raised the stakes for banks inevitably giving the leverage to some of the banks to do business in the international arena.  A Harvard-trained economist. Soludo, served first as an economic adviser to the President before he was given the job at the CBN.
El-Rufai's mandate to reclaim the Abuja master plan. In the process, structures that had been erected even with the approval of officials of government agencies had to be pulled down where they conflicted with the master plan. The demolition in Abuja affected mostly the influential, generals, serving and retired, directors of companies and senior government officials. So, at the beginning, people thought that the reclamation of the Abuja master plan would stop only at the level of sophistry. But with a rare demonstration of courage, structures put up by even generals in contravention of the master plan were pulled down by the minister.
Worthy of particular reference is the war on corruption by the Obasanjo administration. The twin agencies of Economic and Financial Crimes Commission, EFCC under Nuhu Ribad, a trained lawyer and an assistant inspector-general of police  militantly investigated, arrested and arraigned those originally believed to be sacred cows for corrupt and advanced fee fraud cases. Dora Akunyili, a professor, manned NAFDAC. The woman succeeded in running manyt quack chemists out of town, thereby saving many families from the deadly drugs that littered the country[2].
Obasanjo's presidency saw the rise of previously unknown stars like Obiageli Ekwesili, Okonjo Iweala, Charles Soludo, Nuhu Ribadu, and El Rufai. He was widely believed to have pursued a third term agenda surreptitiously. One of his cabinet members, El Rufai alludes to this image shattering episode of his presidency which he denies in his book of three volumes, My Watch.
[1] My Watch, 2014
[2] TELL May, 2007