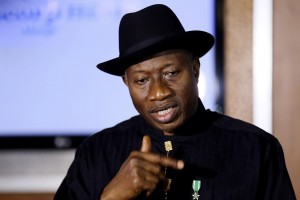 Goodluck Azikiwe Ebele Jonathan; President, Federal Republic of Nigeria, 2010-2015. Following a controversial "doctrine of necessity" by the Senate on February 9, 2010 Jonathan first assumed a new role as Acting President. On May 5, 2010 when President Yar'Adua was pronounced dead, he resumed office as President. Jonathan went on to stand for the 2011 presidential election[i]. During campaign, Goodluck Jonathan made an impression which proved successful with his declaration in 2011 that no one should rig for him or foment trouble on his behalf[ii]. He won the election, but his attempted to get re-elected in 2015 failed. Jonathan lost to one time military ruler, Muhammadu Buhari to whom he handed over power[iii].
Places of Growth
Born November 20, 1957 in Otueke village in Ogbia kingdom now part of Bayelsa State, Jonathan's paternal grandmother who took custody of him at infancy named him Azikiwe after the first president of Nigeria. In 1963, he got enrolled in the Saint Stephen Primary School and later completed his primary education in St Michael primary school at Oloibiri in 1969 with a distinction. Two years later, he was admitted into Mater Dei High School, Imiringi.
Childhood
Goodluck was a gifted child and he was a class prefect. In the senior class he was made chairman committee of prefects, a rare appointment. In 1977 he gained admission into the newly established University of Port Harcourt as a pioneer student of Zoology.

Family
Gooduck is married to Margaret and they have two children. His wife, active and vivacious, was a regular subject of public discourse, during his presidency.
Scholarship
In 1981, Goodluck graduated with B.Sc second class upper division in Zoology. He obtained his master's degree in hydrobiology arid fishery biology in 1985. Ten years later, he concluded his Doctorate degree programme, from the same university. In 1982 Jonathan picked up an appointment as Science Inspector of education in the old Rivers state. He later left for the state College of Education and worked in the biology department of the institution.
Politics
In March 1993, Goodluck was appointed Assistant Director of Ecology in the defunct Oil Mineral Producing Area Development Commission, OMPADEC. He resigned voluntarily in 1998. In same year, Jonathan ran a joint ticket with Chief DSP Alamieyeseigha under the People's Democratic Party, PDP and they won with him and his principal becoming Deputy Governor and Governor respectively, become the first civilian executives of Bayelsa State that was created barely three years earlier. The two got re-elected in 2003. In December 12, 2005 Jonathan became the Governor of Bayelsa state after the inglorious exit of his boss from the political scene. In December 18, 2006, just immediately after the national convention of the People's Democratic Party, PDP, Goodluck, Ebele Jonathan, governor, Bayelsa State, was chosen as the running mate of the party's presidential standard-bearer, Umar Musa Yar 'Adua[iv].
Presidency
Fuel subsidy removal: On New Year's Day, 2012, the Federal Government announced the removal of government subsidy on fuel resulting in jump of pump price from N65 to N141. The development sparked nationwide protests with labour bodies starting nationwide strike. A new price of N97 per litre was announced after two weeks.
Agriculture: President Jonathan's administration made progress in blocking leakages in farmer's access to fertilisers and provision of information to farmers by making available handsets to farmers across the country.
Terrorism: President Jonathan's era was beset by a security situation which he confessed was worse than the Nigerian Civil War experience. Terrorist insurgence which began before Jonathan became President, spread to more areas and rebels intensified their activities under his administration. On February 14, 2014 over 200 school girls were abducted from the Government Secondary School, Chibok, constituting a major challenge to his administration.
[i] Insider December 6, 2006
[ii] Newswatch October 10, 2011
[iii] Punch May 30, 2015
[iv] Tell January 8, 2007