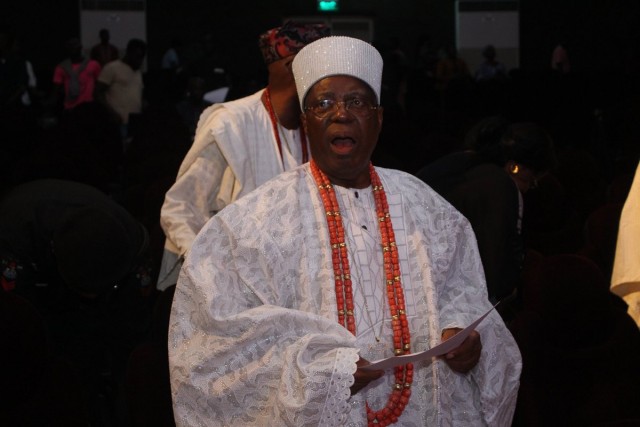 Tejuosho Adedapo Adewale; Egba monarch titled Karunwi III, the eight Osile of Oke-Ona, also medical practitioner and industrialist. In 1989, following the death of Oba Ademola II, Dr. Adedapo Tejuosho became the Oba of this kingdom- one of the four entities which make up Abeokuta.
Origin
Adedapo's both parents originate from Ago-Oko section of Oke-Ona[1]. Father came from Tejuosho comound at Oke-Oko while mother, who became the third Iyalode Egba in 1982 was from Karunwi house of Isale Oko, the house where the first Osile Oke-Ona originated form. Adedapo's great grand-father was one of the diviners or babalawo consulted in inquiring about the future of proposed confederation of Egba villages in a new settlement under Olumo Rock. His grandfather, Moses Tejuosho had refused the crown of Osile for fear of the turbulence which accompanied it. Adedapo's mother on the other hand was properly a princess from the Ayokan ruling house, whose patriarch, Oba Karunwi I reigned between 1897-1899. Parents, Joseph Somoye Tejuosho (1908-68) and Bisoye Tejuosho (1916-1996) got married in 1934.
Places of Growth
Adedapo Tejuosho was born 19 February 1938 at his parent's 10 Queen Street Yaba Lagos abode. When he was two his father was transferred to the Zaria office of Nigerian Railway Corporation. There the family shared a rented Brazilian style building with a dozen families who were mostly Igbo. He, together with his younger sister, Rolayo was sent to Abeokuta in 1946. In Idi-Ape Abeokuta house of their new godmother, Mrs. Onatolu, the siblings fetched firewood in the bush along Idi-Aba and watched clothes in the lake behind Ijemo Police Station. With cousins in Mrs. Onatolu's house they trekked some four miles each school day from Wasimi Ake to Mrs. Funmilayo Kuti's class at Kemta. Adedapo left December 1950 to prepare for a new life in Abeokuta Grammar School under the principl, Rev. I.O Ransome-Kuti.
Relationships
Childhood
Adedapo was a member of the St. George's Anglican Church Zaria youth choir in the early 1940s. In 1948 he literally witnessed the exit of abdicated Oba Ladapo Ademola from Abeokuta when his car passed one morning kids went watching clothes at the lake in Ijemo. Due to the high infant mortality of his parent's home he enjoyed the company of only one sibling, Rolayo Adebimpe, who was two years younger. From the dawn of 1951 Adedapo settled to boarder life in Abeokuta Grammar School. Wisely, he learnt the rules of the school principal, Rev. I.O Ransome-Kuti to avoid unpleasant incidences. In 1956 he became senior prefect under a new principal, Rev. Adeniyi with whom he shared a strained relationship due to his permissiveness of student interest.
Family
Adedapo was the only child of his parents to raise own family due to premature death of siblings born before and after him. Rolayo, his sister and childhood playmate died of ovarian cancer at the age of 25. Following the loss of his father in 1968 he necessarily involved himself in family business which was in plan. His marriage to Adetoun, a long time acquaintance who studied nursing in Manchester came to an end in 1974 after fourteen years. Another tumultuous relationship ended in 1979. Adedapo finally settled to a polygamous life with Omolara from Ogbogbo Ijebu whose father was called Ade Million, and Yetunde from Esa-Oke whose maternal grandfather was the Odemo of Ishara Oba Akinsanya. Third wife is Olabisi from the Badejo Records family of Ijebu-Imodi. Titilola, his first child born in December 1960 is a chartered accountant and Economics degree holder. Olarewaju Adeyemi born in 1964 took after his medical profession. Another older child by him is Kayode Ademuyiwa.
Affiliates
Being knowledgeable of the game of Badminton from his sportsman days in Dublin, Adedapo accepted an invitation to sponsor a competition locally. Following this, he formed an Amateur Badminton Association with Mr. Odunlami who invited him in 1970. In conjunction with a few African associations affiliated with the International Badminton Federation IBF he formed the African Badminton Federation. This was sequel to his resignation of Nigeria from the IBF in protest of apartheid South Africa's continued membership. By 1976, the National Sports Commission took over the machinery of the body and appointed him chairman, alienating him from old partners.
Adedapo became president of the Rotary club Ikeja in 1980, which it joined seven years earlier. In 1986 he was elected District Governor of District 911. Since 1973 he had joined Lodge Lisabi- a Scottish lodge of Freemasonry in Abeokuta.
Contemporaries
Fela Anikulapo-Kuti being among secondary school contemporaries he shared radical views about religion with. Alake Oyebade Lipede was instrumental in dousing what may have been tension when Ago-Oko community was alleged to be acting unilaterally in events leading up to his coronation in 1989.
Education
After the completion of Ordinary Level at Anglican Grammar School in 1956, Adedapo proceeded to a two year Advanced Level course at West Ham College in London. At the end of the first year he gained admission into Trinity College for a six year medical course, with first four years devoted to the medical and art subjects, therefore earning arts degree halfway. Afetr obtaining a medical degree in 1964 he returned to Nigeria for housemanship at the Lagos University Teaching Hospital LUTH. Again he was in Europe in September 1966 to pursue a post graduate diploma in Tropical Medicine in the University of Liverpool. Following this, he studied for a diploma in Public Health for nine months in the Bristol University, and did a six months course in medicine at the Edinburg University. Finally, he took a course in Industrial Health, which he finished in February 1970 before returning to Nigeria.
Experience
Intentional efforts to gain experience was made by Adedapo while in Europe for his post graduate studies form 1967-1970. He stayed a couple of months at the Wittington and Holloway hospitals in London, He was also involved in a private practice under an experienced doctor in town. Declining to take on an offer which would affect his business and private practice plans he resumed a part-time job with Surulere Health Centre SHC at Randle Avenue.
Motivation
It was common for youngsters of Adedapo's day to covet the honour that was due to medical dotors but he carried his own fancy almost to a level of obsession. His other intuition would bring him to what he considered a higher calling. As recounted in his autobiography, it would suddenly dawn on him that he was a reincarnation of Karunwi I, his mother's great grandfather who was the first Osile of Oke-Ona. Moved in part by his several encounters with the Aladura, he chose at his 50th birthday to engage himself more in religious activities.
 
[1] The Ultimate Honour, Dapo Tejuosho, Nelson Publishers Limited, Lagos, 1989