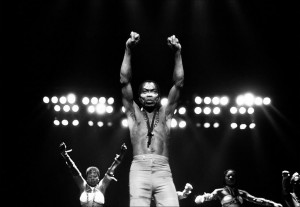 Olufela Anikulapo-Kuti; Iconoclast musician who was the creator of the Afrobeat subgenre of highlife music. Fela returned to Nigeria after training at the Trinity College in London to join the Nigerian Broadcasting Corporation, NBC. In 1962 he formed Fela and the Highlife jazz Band and played contemporary highlife music. Several years later, he made an acquaintance of a female American activist who may have helped develop his ideology. Subsequently, Fela Kuti created his own brand of highlife, which he called the Afrobeat. With this idiosyncratic music laced with reactionary and anti-establishment slogans, Fela Kuti made a huge success of his art which gained wide international acclaim.
In September 1984, he was detained by the military regime of Major General Muhammadu Buhari. Shortly after, he was sentenced to five years imprisonment for currency trafficking but got released two years later. In 1997, Fela fell ill after an encounter with operatives of the National Drug Law Enforcement Agency, NDLEA, who invaded his house on Gbemisola Street, Ikeja Lagos. Fela was arrested along with many of his fans. His death which occurred on August 2, 1997 was announced by his medical doctor elder brother, Olikoye, as arising from complications due to Acquired immune Deficiency Syndrome (AIDS).
 
Place of Growth
Fela was born on 15 October 1938 in Abeokuta into a home of activists. He began his elementary education at Mrs. Funmilayo Kuti's class in 1944. Upon graduation in 1952, Fela moved to Abeokuta Grammar School.
 
Origin
The legendary Reverend, Israel Oludotun Ransome-Kuti was Fela Kuti's father, and Olufunmilayo Ransome-Kuti, was his mother. Dr. Bekolari Ransome-Kuti, Fela's younger brother, celebrated activist, studied medicine in England. Grand father and patriarch of this family tree, Josiah Jesse Kuti have church music surviving for several decades attributed to him.
Childhood
Fela was undecided about the path to take in life but with the guidance of his parents,  was persuaded to study music at the Trinity College of Music in Dublin, Ireland.
 
Family
Fela Kuti was married to Remi Thylor, and both had three children. He also had other children from other women. He famously married twenty-seven of his female dancers.
 
Education
Fela graduated from the Trinity College in 1962.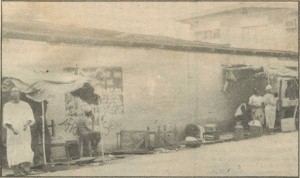 Afrobeat
In May 1965, Fela Ransom-Kuti emerged with the Koola Lobitos performing from the jazz standpoint.  His highlife was highly musical and characterised by dense arrangements, which entailed the articulation of riffs that established question-and- answer patterns. The music had fire, but did not sell[i].
As soon as he was evolved, Fela Kuti changed the name of his band to the Africa 70 and became more direct with his criticism of Nigeria's government of the day. Some of most famous works include Jeun Ko Ku, Why Black Man Dey Suffer, Operand Close, Shakara, Roforofo Fight, E No Possible, Gentleman, Alagbon Close, He Miss Road, Expensive Shit, Noise For Vendor Mouth, Everything Scatter (Rere Run), Excuse O, Confusion and Upside Down. Others are No Buredi, Johnny Just Drop (JJD), Yellow Fever, NaPoi, Monkey Banana Zombie, Kalakuta Show, Ikoyi Blindness. Stalemate, Black President, Authority Stealing, No Agreement Shuffering and Smiling, V.I.P, I.T.T, Original Suffer Head and Coffin for Head of State.
 
[i] The Guardian October 1, 2009