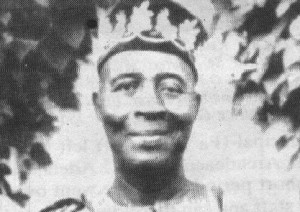 Israel Ransome Kuti was a pioneer educationist and union activist, born 30 April 1891 in Abeokuta. Israel was like his father before him, an Anglican priest. When he left the Lagos Grammar School, he became the first pupil to be enrolled at Abeokuta Grammar School in 1908. His education continued at Fourah Bay College from where he obtained a B.A. degree in 1916. Israel worked as a teacher briefly in Lagos. He was the principal at Ijebu Ode Grammar School for thirteen years. He returned to Abeokuta in 1932 where for the next 22 years he served as principal of his Alma Mater. There, he founded the Nigerian Union of Teachers.
It was also at Kuti's prompting as principal that the students of his school established the historical Nigerian Union of Students in 1940. He was appointed to mediate during the lull in party activity, which followed an internal pre-election crisis that brought an end to the Nigerian Youth Movement, a group established in 1938 to obtain autonomy for Nigeria. The National Union of Students, which he inspired, stirred the formation of what would later be called the National Council for Nigerians and Citizens, a large national political party under the leadership of Herbert Macaulay.
Israel Oludotun died in 1955. Although he was not a man of huge earnings, his character did bestow on him a great status in his lifetime and he had been the initial inspiration behind his nephew, Wole Soyinka's memoir; Ake, one of the literary works for which the Nobel laureate earned international acclaim. His fourth son, Fela Anikulapo Kuti was the world-renown pioneer of Afrobeat music.