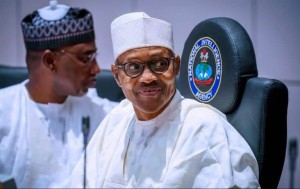 Muhammadu Buhari; Head of State and Commander-in-Chief of Nigeria Armed Forces from December 31, 1983, to August 26,1985, before he was overthrown by Ibrahim Babangida. Buhari was also chairman, Petroleum Trust Fund, PTF. After futile effort at attaining presidency under the flagships of the All Nigerian People's Party, ANPP, in the 2003 and 2007 and the newly formed Congress for Progressive Change, CPC, in 2011, he defeated Goodluck Jonathan in 2015 presidential election.
Places of Growth
Born in Daura, Katsina State on 17 December 1942, Muhammadu Buhari grew up under the guardianship of a disciplinarian uncle and strict Islamic ethics[i]. Muhammadu Buhari studied at Katsina Provincial Secondary School (now Government College), Katsina, Nigerian Military Training College, Kaduna, Mons Officer Cadet School, Aldershot, United Kingdom and Army War College, United States. He was commissioned second lieutenant in 1963[ii].
Career
Regime
 
Buhari fought on the side of Nigeria during the civil war of 1967-70. Shortly, after the war, he became the governor of the Northeastern State. When Gen. Muritala Muhammed became the Head of State, Buhari was appointed as the Federal Commissioner for Petroleum Resources and Chairman of the Nigeria National Petroleum Corporation (NNPC). In the Second Republic, he was the General officer Commanding (GOC), Third Armoured Division, Jos[iii]. On December 31,1983, Major General Muhammadu Buhari, General Tunde Idiagbon and the 'Beret' Generals of the Nigerian Army on December 31, 1983, led the soldiers out to overthrow the Second Republic politics. He was toppled himself in August 1985 and detained for almost two years. In retirement, he led a quiet life.
Buhari came to national prominence as a Major-General when he emerged as Head of State. That was after the coup de tat that sacked the Second Republic, led by Alhaji Shehu Shagari on 31 December 1983. The regime's introduction of War Against Indiscipline, WAI, saw order restored to a country on the verge of social collapse[iv]. He paid national debt and ensured that the nation did not incur a new debt. Many corrupt politicians were tried for graft. He also restored national security, which had been threatened by the rising wave of armed robbery. His regime had a stand-off with Britain over its attempt to smuggle Umaru Dikko back to the country in a crate. Its popularity with the Nigerian masses soon declined with the introduction of the State Security (Detention of Persons) Decree 2, which allowed the government to detain without charge, persons suspected of acts prejudicial to state security or economic well-being of the countiy. It also suspended the detainee's civil liberties and precluded judicial review. This was followed by the Public Officers (Protec Decree 4, which was promulgated to punish publishers of reports that exposed the regime to ridicule or contempt, even if they were true. Under it, two journalists of The Guardian, Tunde Thompson and Nduka Irabor, were jailed.
 
Post-military life
Buhari's romance with the General Abacha junta a great jolt on his established moral credentials and leadership credibility[v]. It was alleged the junta is uncomfortable with the large scale and all-embracing plans and intended projects of PTF which it is feared, will expose its weakness and non-committal disposition. In the emergent political dispensation in 1999, apart from occasional criticism of the Obasanjo administration, Buhari maintained a rather low profile until 2002 when he was drafted by All Nigeria Peoples Party as its presidential candidate in the 2003 election and in 2007.
[i] Tell 22 December, 2002
[ii] Insider 20 December, 2004
[iii] The Nation 10 December, 2014
[iv] The News 31 March, 2008
[v] Dateline 31 August, 1995