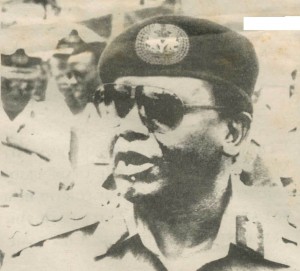 Sani Abacha; Nigerian Head of State from November 1993 to June 1998. Abacha was the first officer of the Nigerian Army to rise to the rank of General without skipping any rank. He was also the first to become a full four-star general before becoming Head of state. Abacha who was Babangida's de facto number two man for eight years seized power from the Interim National Government, ING with the palace coup of November 1993 which was his third successful coup in ten years.
While the last batch of newly created states owe their existence to him, pro-democratic activists still consider Abacha's reign as the darkest in the country's history because of its human rights record and the level of economic pillage which besieged the country during his rule[ii]. In one of many instances, the Federal Government of Nigeria announced in 27 June 2013 it had recovered $l75m from the Abacha family and companies associated with him in Liechtenstein[i].
 
Places of Growth
After leaving City Senior Primary School Kano, Abacha went to the Provincial Secondary School (later Rumfa College) also in Kano (1957-1962).  In 1962, he opted for the army, four days after his school certificate examination, and entered the Nigerian Military Training College[iii].
 
Family
Abacha got married at 22 to a lady of 17, Maryam, in a union that was marked by early controversy. He had at least 10 children. Abacha was a General Officer Commanding (GOC) the 2nd Division at Ibadan before he became Chief of Army Staff, then chairman, Joint Chief of Staff and then Minister for Defence.
Regime
On Sunday, November 14. 1993, General Abacha briefed Ernest Shonekan of events that had climaxed the annulment by General Ibrahim Babangida of the June 12 presidential election. He spoke of the fear of many Nigerians of the possibility of a civil war — a situation which he said was not pleasant to the ears of the Armed Forces. General Abacha touted the judgment of Justice (Mrs.) Dolapo Akinsanya, judge of the Lagos High Court declaring the Interim National Government illegal, as he declared the situation surrounding the ING a dangerous matter that could destroy respect for the country's leaders. Hence, Shonekan was compelled to invite the Armed Forces to resume the governance of the' country. Abacha became the Head of State when Shonekan signed the papers that was tabled before him[iv]. He ruled for weeks without a government. The cabinet was reconstituted in March 1995 after its dissolution on 8 February 1995.
Former Head of State, General Obasanjo, and his deputy at the time, Lt. General Musa Yar'Adua, with a score of other ex soldiers were accused by him of plotting a coup early in 1995. A military panel headed by Aziza pronounced a death sentence on them which was commuted after pleas by the U.S. Government, Pope John Paul II (who he hosted to Nigeria in 1998) and several international figures, to different terms of jail. Abacha announced this on October 1 independence anniversary, 1995[v].
The hanging on November 10 1995 of Saro Wiwa, environmentalist and activist, coming on the eve of a Commonwealth's meeting in Nigeria, drew international outrage. The Commonwealth expelled Nigeria, and followed with a regime of sanctions. Exactly on the sixth anniversary of his father's coup, Mohammed, Abacha's surviving eldest son, was brought to court along with others in continuation of their trial for the murder of Kudirat Abiola which occured on June 4, 1996[vi].
 
[i] Guardian June 28, 2013
[ii] ThisDay June 12, 2003
[iii] The News August 12, 1996
[iv] Vanguard August 28, 1995
[v] ThisDay October 11, 1995
[vi] Tell November 29, 1999