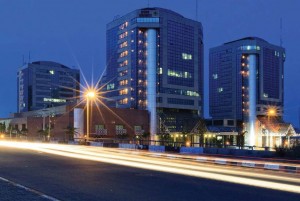 National Petroleum Corporation, NNPC; Nigeria's state oil corporation through which the federal government regulates and participate in the oil industry Nigerian was formed in 1977 was a result of different developments in the country's oil industry. The evolution of the Corporation, no doubt, was after the first commercial oil find was made in 1956 by Shell in Oloibiri in present day Bayelsa State. This was after about half a century of exploration activities in South-western Nigeria where the explorers made numerous bitumen seepage finds. The success of Shell in the Niger Delta attracted other companies including Mobil, Texaco, Gulf (now Chevron), Agip, Esso and Safrap (now Elf) into the country to take up concessions that had been relinguished by Shell. In 1963, the first offshore finds were made by Gulf (Okan I), Mobil (Ata-I) and Texaco (Kulama -1). Since then, the Nigerian oil industry has gone through rapid expansion, notwithstanding the disruptive effects of the civil war between 1967 and 1970 and, of course, more recent community problems, which have disrupted several operations. it was believed that if government had more say in the running of the oil industry, it could achieve its goals of rapid industrial and commercial development of the country.
Government Role
Unfortunately, the Ministry of Petroleum Resources played mainly regulatory roles in the industry then. Today, government's participation stands at 55 per cent in Shell and 60 per cent in Chevron, Mobil, Agip, and Elf. In 1971, shortly before the country joined the Organisation of Petroleum Exporting Countries (OPEC) as its 10th and last mem- ber (Ecuador and Gabon which joined the organisation after Nigeria, withdrew in 1993 and 1995 respectively), the Nigerian National Oil Corporation (NNOC) was established as an organ for exercising control over the industry which was dominated by multinationals.
Oil Exploration
The Corporation also provided a platform for government to take up interest in the operations of the companies, starting with 337, per cent in Agip, based on a 1965 agreement which allowed government to acquire interests in the event of successful exploration effort. Other acquisitions were to follow, and by 1974, the acquisition had covered all the operating companies with the percentage of Governments interest increased to 60 per cent, thus giving birth to the Joint Venture relationship between Government and the major oil producing companies, a relationship which subsists till today. NNPC was formed through the merger of the then NNOC and the Ministry of Petroleum Resources in April, 1977. The Corporation was given powers and operational interests in refining, petrochemicals and products transportation as well as marketing. This was in addition to its exploration and production activities carried out mainly offshore in Niger Delta by its forerunner, the NNOC.
Oil Refinery
Between 1978 and 1989, NNPC constructed refineries in Warri, Kaduna and Port Harcourt and took over the 35,000 barrels per day Shell Refinery established in Port Harcourt in 1965. In addition, the Corporation constructed several kilometres of pipelines, pump stations and depots for distribution of petroleum products throughout the country and pioneered exploration activities in Chad Basin around Maiduguri. In 1982, product retail, which 'hitherto was firmly in the hands of major multinational oil companies, was deregulated to accommodate independent (indigenous) marketers in 1990, with a view to improving the country's oil and gas reserve base, oil , exploration, which had progressively moved offshore Niger Delta, was further extended into frontier areas Including the deep-offshore and the inland basins of Anambra, Benin (Dahomey) and Benue, where acreages were allocated to several multinationals after signing Production Sharing Contracts (PSCs) with NNPC. The same year, a reinvigorated Indigenous Operatorship programme was introduced through the allocation of blocks to indigenous companies, which presently operate on sole risk basis. NNPC Employs over 9,500 People Nationwide.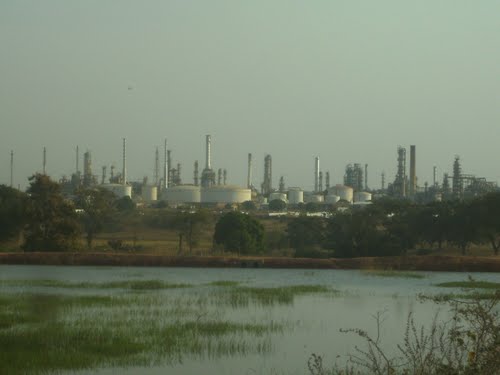 Structure of NNPC
The new NNPC group comprises the Group Managing Director's office, four Directorates namely, Exploration and Production, Refining and Petrochemicals, Finance and Accounts and Corporate Services. Each of the directorates is headed by a Group Executive Director. Its nine subsidiary companies, two partly owned subsidiaries and some associated companies manage the upstream and) downstream activities and interests of NNPC. Also, there is the National Petroleum investment Management Services (XAPI MS) in the Exploration and Production directorate which is a critical arm of the Corporation and which monitors and supervises Government's investments in the Joint Venture, Production Sharing, and other contract agreements in the upstream sector of the industry, NAPIMS also markets the Federation's accruabie crude and engages In direct exploration.
Subsidiary
NNPC has the following wholly-owned subsidiary companies: Duke Oil Limited, Integrated Data Services Limited (IDSL), Kaduna Refining And Petrochemicals Company Limited (KRPC), National Engineering And Technical Company Limited (NETCO), Nigerian Gas Company Limited (NGC), Nigerian Petroleum Development Company Limited (NPDC), Pipeline And Products' Marketing Company Limited (PPMC), Port Harcourt Refining and Petrochemicals Company Limited (PHRC), Warri Refining and Petrochemicals Company Limited (WRPC)
The partly-owned subsidiary companies are: Caison (Bermuda) Limited, Hydro-Carbon Service of Nigeria Limited (HYSON), The NNPC also has interests in many other associated companies.
The News May 28, 2007