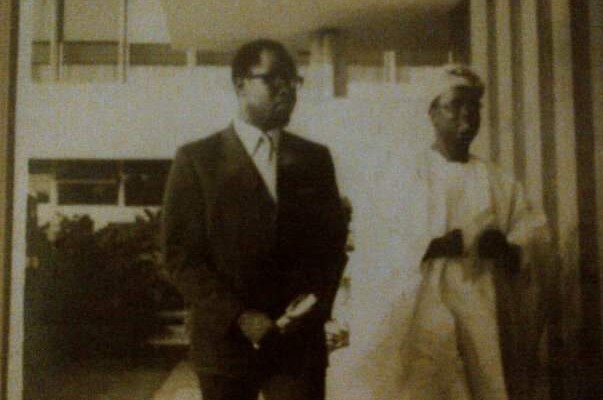 Biobaku Saburi Oladeni; Historian and one-time Vice Chancellor of the University of Lagos, Unilag. Professor Saburi Biobaku's special Yoruba history projects, like that of Professor Akinjobi, and of the great dramatist, Hubert Ogunde, were the products of the seminal impact of the Egbe Omo Oduduwa which Obafemi Awolowo foresightedly crafted[i]. Saburi belonged to the generation of Yoruba historians who followed the pioneering effort of Samuel Johnson in setting the foundations of Yoruba historiography and creating reference notes of indigenous African historical literature. He laid out the history of his kindred, now an authoritative reference; Egba and their neigbours, and chaired the editorial board of the lofty Encyclopedia Africana project.
Biobaku had been a part of a history of his own at the beginning of his tenure as the VC of Unilag when a session of the university community, believing his appointment and removal of one-term VC, Eni Njoku was as a result of tribalism. Biobaku survived the stabbing by a protester, Kayode Adams, who seven years later committed suicide. Professor Biobaku died in a London hospital, on Saturday, February 17, 2001.
 
Origin
Saburi Biobaku's paternal grandfather, Muhammadu Bello Biobaku was the Otun of Iddo, capital town of Gbagura section of Abeokuta[1]. He was an enlightened Muslim and successful farmer in Keesan, across the Ogun River on the way to the Egbado country. Saburi's own father, son of Bello known as Sanni Oloyede Biobaku worked at the British Mercantile house in Ibara and owned farms at Meesan in the Ota district across the Atan River. His fourth wife, Saburi's mother, came from the Bisiriyu Giwa family of Igbore in Egba Alake. Maternal grandparent with whom he shared a greater part of his childhood were the popular Alfa Bisiriyu Giwa of Igbore (c. 1860-1937), son of an Egba returnee form Sierra Leone, Anthony Lauck Okonrende who embraced Islam while in Freetown. Saburi's maternal grandmother came from a family house at Ile Lisa, also an important household in Igbore.
 
Places of Growth
Saburi Biobaku was born at the home of his maternal grandparents at Igbore on 16 June, 1918. He was introduced to the Quran school quite early, between the ages of three and five, and his grandfathers from the sides of both parents ensured his attendance at variety of schools by each new mallam or alfa with good repute. Although he lived principally at Alfa Giwa's house, Saburi often stayed at his parent's Ago-Iddo house and paid more infrequent visit to his paternal grandfather who lived in the same area. His father's own bungalow stood at Oke-Ijaiye. He remembers drummers paying homage to his father with their beat, each time they passed by. The same honour, he wrote, was often accorded his maternal grandfather, Alfa Giwa, who is praised as a mentee of the renowned Islamic schorlar, Alfa Egberongbe of Ake. On many occasions, Saburi followed Giwa on his visit to Lagos where he appears to have many friends. They lodged on those occasions with Pa Maunday, a Christian Saro, at 74 Lewis Street, Lafiaji. For seven years Saburi attended the Wesleyan school in a pleasant valley at Ogbe.
 
Travels
Saburi Biobaku arrived Exeter that had been bombed days earlier in events of the Second World War. The Victory Day of Allied powers against Nazi Germany was celebrated widely in Exeter. This auspicious event fell into the ending of his second year.
 
Relationships
Childhood
Saburi was nicknamed Dudu in his father's polygamous household, in reference to his remarkably dark skin as he grew into a handsome lad. He recalls the huge pageantry of Islamic festivals in this time, made colorful by his horse-riding, show-stopping grandfather, Bisiriyu Giwa. Once, Ibrahim Qudus, who ran a prestigious Arabic school bestowed Saburi with the title Effendi after the young man's brilliant recitation of an Arabic poem as a pioneer student of his esteemed Arabic school. Effendi was the Turkish equivalent of the English chivalry's knight. As a boy, Saburi enjoyed from his favorite uncle's voice gramophone, collections of American folk music by Jimmie Rodgers, and others. Also, records of Canon J.J. Ransome-Kuti, and later, gems of Yoruba proverbs by London diasporan Egba lawyer, Ladipo Solanke.
The death of Saburi's father in 1931 led him to precociously take his future seriously. This made possible his earning of a government scholarship to the Government College Ibadan. His education was able to survive financial despondence which his early orphaning may have caused, due to the charity of Alake Ademola who paid fees in the fourth and subsequent years. In 1936, he wrote an editorial on the abdication of Edward VIII, king of England, whose visit to Oyo town in 1925 he was aware, was attended by his grandfather. By the end of the following year, the year of the old man's death, he had passed entrance exam for the Yaba Higher College.
 
Family
Saburi's father, (c. 1886-1931) who would have insisted on him studying Law died when he was barely into his teen age, giving him the liberty to toe his own path. While processing his application for a PhD abroad in 1948, he married Sade daughter Chief Imam L.B. Agusto, who was studying at the Pharmacy school in Yaba and they raised four children together.
 
Education
Saburi was educated at Ogbe Methodist School, Abeokuta, 1925-31. He was on schorlaship at the Government College, Ibadan, 1932-37 and Higher College, Yaba, 1938-40 where he was awarded with the highest teaching qualification in Nigeria at the time. Saburi went to the  University College, Exeter, England, 1944-45 where he had his B.A. Honours degree in History and English. He wa also at the Trinity College, Cambridge University, 1945-47; Historical Research Institute. Saburi had his M.A. and PhD in History from the University of London, 1950-51[ii].
 
[1] When We Were Young, Saburi O. Biobaku, University Press Plc., Ibadan, 1992
[i] Awo: The Issue, even in Death, Odia Ofeimun, 2007
[ii] Newswatch Who is Who in Nigeria,