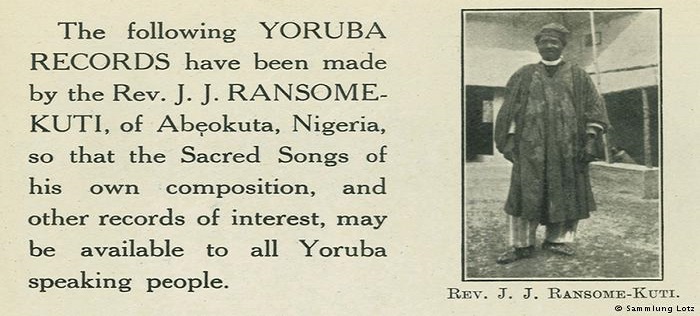 Josiah Jesse Ransome Kuti; Hymnist and 19th Century African missionary in the Yoruba country. He is the patriarch of the Ransome-Kuti family of Nigeria, which produced distinguished personalities like his son, Israel Oludotun Ransome Kuti and his grandsons: Olikoye, Beko, and the celebrated Afrobeat performer, Fela Anikulapo Kuti. Josiah Jesse Ransome-Kuti was among the pioneers of the Christian church in Yorubaland when the missionaries arrived Abeokuta in 1854 and his mother gave him to white missionaries for training. He was a musician; the first Nigerian to have his music reduced to a staff notation and recorded on the gramophone. The very popular evergreen song, Ise Oluwa k'ole baje o and Eje komo ko wa o are credited to him and his hymns collection is being kept in the British Museum. His remains were interned in the St. Annes Church compound in Abeokuta when he died in 1930.
 
Origin
Josiah took after his father in music as the old Kuti was a town musician who came from Orile, the original homestead of the Egba. He was also a weaver of cloth and a staunch heathen of the Igbehin township in Abeokuta. Kuti often went to war alongside Balogun of Igbehin, and once had a very narrow escape. His own father, Josiah's grandfather, was called Jamo, and mother, Orukoloku. Jamo's mother was known by the name Olasu. Kuti was the grandson of Likoye, a woman of note at Orile Igbehin. Balogun Sowemimo's mother, Eruwe, alias Louisa Coker was one of her granddaughters. At the publication of Josiah's biography in 1968, a remnant of the extended family called Ligbakule is said to exist at Igbehin.
 
Places of Growth
Josiah Ransome-Kuti was born in 1855 in Igbehin. When he was nine, his mother who had taken the name Anne in celebration of her conversion to Christianity took him to the principal of the Training Institute at Igbehin to serve as his houseboy. Anne had fervently prayed her son to be a prophet, that is, a teacher. While staying with the principal, Josiah attended the day school. Rev. J. Allen of the institute took great care of him and prayed for him but his father would not allow him stay there for long. Sickness forced Josiah back to the farm of his uncle, an emigrant from Sierra Leone, Thomas Cole, alias Kajero. He was soon after, attending school.
 
Travels
In his work as a preacher, Josiah and his wife, Bertha lived in Gbagura, where he planted churches and tended to the community of new converts. He was transferred to Sunren-Ifo District, which was in his day, a dangerous terrain for preachers of the gospel and a generally lawless territory newly recovering from the political uncertainty which the subsided civil war of the Yoruba county plunged it. At Ifo he was attacked by adversaries of the church and he secured a wound to his head, which he concealed for the rest of his life by never shaving in full. His scar, he once declared, will be visible to the throne (of Christ). Josaih Ransome-Kuti was in London in 1905 and he preached in St. Paul's Cathedral during the visit. In 1922 he went on a pilgrimage to the Holy Land, and travelled through Europe, attending the CMS Exhibition in London. There and then, he made some gramophone records of his songs. On his return from his travels in that year, he was made a canon of the Cathedral Church of Christ, Lagos.
 
Relationship
Childhood
Josiah wrote that his youth was glorious and prosperous, and that he suffered only minor accidents brought upon him by youthful pranks. He always refused his father's injunction not to follow his mother to the church. His mother, Anne, credited with introducing this would-be great evangelist of the day to the gospel, made church for him a delight by buying him new clothes eventhough he remained under the influence of his father. In his diary, he recorded he could claim that he had eaten the idol meat and the missionary's biscuit on the same day. He could also claim, he said, that he was a member of the Women's Bible Class. As he grew older, he spoke with spirit and attracted a crowd of listeners. He sang and played the piano and the harmonium.
 
Family
Josiah' father was a pagan and remained so till his death. His mother on the other hand became a Christian in c.1864. While working at the Female Institute, Josiah met Bertha, eldest daughter of Rev. D. Olubiof Kudeti, who was the first African pioneer of Christianity in Ibadan. They were married 22 May, 1882.
 
Affiliates
Josiah was a missionary of the Christ Missionary Society, an evangelism arm of the Anglican Church in Africa. His interest, apparent in a couple of his actions or inaction, was to introduce the gospel to the heathens of the Yoruba country, a simple ambition which often led him into doing what conflicted with the constitution of the church. As the church, some of which he helped expand grew, the need to enforce these rules became pertinent, causing him to suffer disciplinary actions on occasions. Suggestions to form a uniquely African Church by some of his sympathizers was resisted by him.
 
Contemporaries
Bishop Tugwell is recorded to have made public reference Josiah's services at meetings of the clergy and had confessed to him his great regard even in a letter in which he had to reprimand him for flouting church constitution. He was one of the band of people who laid the foundation of the church in his native land. The Christian Balogun (war captain) of Egba famous for praying before each campaign took after him and with this ideal, had consistently marched to victory.
 
Education
In 1871 Josiah entered the CMS Training Institute in Lagos. He was thereafter appointed a teacher at Ake School, Abeokuta in January 1877. In 1880 he was appointed to the CMS Girl's School in Lagos, (known as the Female Institute) where he taught and practiced music.
Work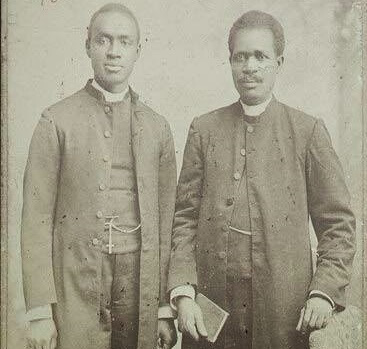 The young community of Christians at Gbagura Abeokuta received Josiah in 1877. Moving to town meant that he would give up many of his interests, some of which he deployed anyway, in winning many new converts. To draw people to himself he went to market places and sang tunes popular among the local people, which he set in his own Christian words. When people gathered to have some more he would pitch the idea of having a permanent place where they could enjoy his music to them. His bravery is illustrated in the story of how he defied the scary procession of Oro worshippers to attend to a sick convert in Gbagura. In Ilaro he convinced the Oba to allow his subjects protect themselves against the sun and the rain with the umbrella like he does. The Oba obliged, but he was attacked one evening by dissatisfied persons. Supporters marched to his support and a troupe of 200 men were summoned but he pleaded they return. His impressive act of kindness towards a deceased follower who died in penury and had no one to bury him won even adversaries to his side.
 
Motivation
When accused of contravening church constitution, Josiah explained all he wanted to do was to save souls. This he understood apparently as his destiny, and the greatness of his assignment was not lost on him. As a young man, the German Missionary, Mrs. Mann had spoken to him of the greatness of his call and the danger of social ambition. With his wife, Bertha, he carried on many social works and took care of children in hope a new Nigeria will emerge.
 
Accomplishments
One of the boys who was under Josiah disclosed to his biographer that over 65 boys and girls passed through him and his wife during their lifetime. In sixteen years, he founded 25 churches in addition to the eight centers he met in the district. Until 1906 he was the lone Superintendent of all these churches. Over 2,600 men, women, and children were baptized. 900 candidates were introduced to the Bishop for confirmation. Seventy workers were produced for the Mission, thirty churches and parsonages built, 195 couples married, and 540 buried. He did an average of 200 miles monthly on his bicycle or horse and in foot. He also paid the redemption fees of two slaves and three iwofa (pawns).