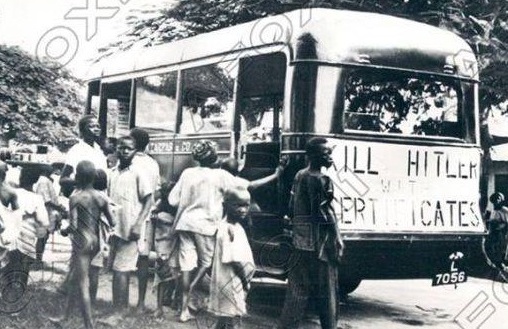 Nazism was the German political system between 1933 and 1945 of extreme nationalism, propagated and supervised by totalitarian authority. In articulation of what would be Nazis tenet, Hitler had in his book, Mein Kampt, equated Africans with apes, effectively suggesting the possibility of their enslavement in the event of German victory in its aggression efforts in Europe.
On 3 September 1939, Imperial Britain declared war on Germany for occupying Polish territory, quickly enlisting the support of another imperial power, France, which fell easily, to its outmost disappointment, to German hands in June 1940. Electing to fight on, the British government found considerable psychological and material collateral in the colonial resources at its disposal. Without any traceable coercion, various organizations and individuals in Nigeria contributed towards the war against Nazism. It was understood that any advance of Nazis over British imperial will could mean the cession of Nigeria to Germany. This caused apprehension throughout Nigeria. Herbert Macaulay, the nationalist, in one of his broadcasts at this perilous time urged Nigerians that victory for democracy and freedom for mankind depend on their contributions and their rallying around the Union Jack.
In a 1940 letter of Egba indigenes resident in Otta to the district officer of Egba division, the necessity was apparent for the natives to assure the colonials, "we are aware of the true position of affairs in Europe which is rather gloomy and we sincerely pray that the British Empire and her allies may have victory over the 'Nazims' whose only aim is to ruin and dominate the whole world." There is no doubt that the native people of western Nigeria deemed the World War in which Nazi Germany was the principal actor as a battle between good and evil. The Alake, on the occasion of the New Zealand Premier's visit during the war, said in his speech, "the whole of our efforts at this moment is directed towards hoping to win the war which Hitler has wickedly forced upon the world."
Through the breadth of the land, contributions soared for the Win the War fund and the distance of the people from the theatre of war did not atrophy their sentiments towards Nazism, as they purchased the Nigerian squadron of aircrafts named after each of her 23 provinces reported to have downed a few enemy aircrafts in 1942. The Battle of Normandy liberated Western Europe from Nazi oppression in August 1944 and by the next year; the curtain had been drawn on Hitler and Nazism, but Nigerians, on their part, regretted that the imperial power had taken advantage of them. German businesses that had been expelled from Nigeria during the war returned in a much diminished capacity.