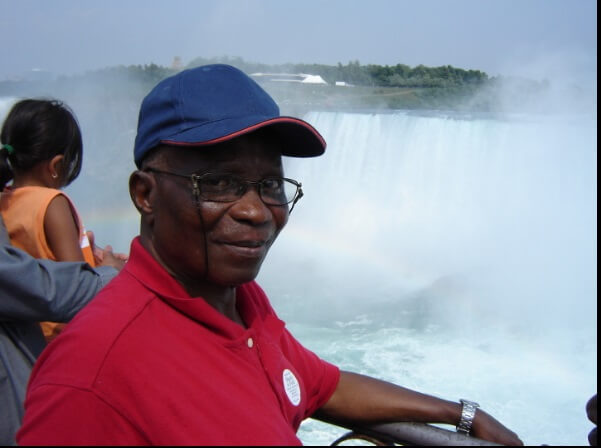 Abidoye Babalola; University Administrator and Student Union activist of the 1960s. Under Abidoye Babalola's leadership, students of the University College Ibadan escalated the mild but historically notable Marjorie Michelmore affair[1]. The proposed Anglo-Nigerian defense pact interpreted by activists as a tactical return to colonialism was abrogated following a protest led by him. Abidoye preempted the National Youth Service Corps in a speech at the 6th Convention of the National Union of Nigerian Students in 1962, making a call which he will answer to with his membership of the planning of the National Youth Service Corps NYSC in 1972. His articles on university autonomy, and another on the protection of the system against political intrusion was acclaimed by eminent persons when it was published in the Daily Times of 13, 14 September 1972. He shared also, a not too well received articulation of his fears on the role of the National University Commission NUC, which he incidentally joined, plotting the establishment of seven federal universities and formulating a unified admission body, the Joint Admission and Matriculation Board JAMB, to meet the demands of the time.
From a poor start in school, Abidoye had gone ahead to earn a first and higher degrees followed by a high flying career at the University of Ibadan, and another at the National University Commission. He was also a successful commissioner in Osun state. Although he had taken successive leaves of absence in his prior assignments to assume the political one, Abidoye chose to return to his University of Ibadan where he was an administrator for many years. He retired nonetheless, due to the failure of the university setup to accommodate his new public service ranking. Abidoye Morakinyo Babalola died in 2018.
 
Origin
Abidoye's father, Joseph Omowunmi Babalola, conferred with the chieftaincy title of Alatunse meaning the repairer, for his role in the local Anglican Church, hail from the Ile Ajo compound of Ipetumodu. The family, called by Joseph's church title, is known in the village for its appetite for western education.  Joseph married Juliana, daughter of Ikumapayi who was a native of Yakooyo (a sister settlement to Ipetumodu within the Origbo community), in 1928 and went on to dump the tailoring craft in which he was trained for carpentry in which he faired quite better. He also joined the fray to grow cash crops like cocoa, kola nut and coffee.
 
Places of Growth
Abidoye Babalola was born 12 January 1934 in Baakun Street, Ipetumodu. Like most other houses in the village, his father's house was a simple mudhouse with corrugated zinc sheets roof. Children slept on mats spread on sitting room floor. Abidoye was enrolled at the Christ Anglican Primary School in 1940. School discipline, rather too fierce, reared in him an apathy which reflected in his academic performance, hence his father's decision to send him first to his cocoa farm at Ayetutu, and next to the family rice plantation at Iwaro. After one year at the farms, he went on continuing with school. Abidoye left Ipetumodu for the first time when he was thirteen, to live with his elder brother at Ijebu Ode. He recounts primary school in the town to be more relaxed and his stay a happy one. Abidoye also lived with another brother, a UK returnee who tutored at Igbobi College in Lagos long enough that the underdevelopment of Offa, the town of his secondary school, did not escape his notice.
 
Childhood
The Alatunse family house in Ile Ajo compound where the polygamous family lived also had as residents, aunts, cousins, and for a long time, father's travelling Ijesa friend with his children. There was therefore many kids to play with, especially when mates beyond the compound came together in evening time. As there was no electricity, the moonlights were children's delight, and they told folktales, sang and danced into the night. As a restive child, Abidoye picked up many hobbies available to him.
Family
Abidoye's father, Joseph, staunch Ipetumodu Anglican Church man of extensive cocoa farm, died in 1963. Mother, Juliana followed almost three decades later. The family was honored in 1994 by the Apetumodu, borrowing the church title which it had carried for decades, Alatunse. At the Woodgreen Town Hall London, he married the girl he had met in a wedding in Ibadan four years before, who had now commenced studies abroad. Many intrigues followed for the family after Abidoye's retirement in 1980; death of a son and long sickness of another child which sobered him into a reclusive life.
 
Education
Abidoye finished his secondary education at Offa Grammar School in 1955. While preparing himself for admission to University College Ibadan he was seconded by his brothers to the School of Agriculture, Moor Plantation, Ibadan in January 1957 where he also earned a salary as a civil servant. Not wanting to be a farmer, he went to the Nigerian College of Arts, Science, and Technology which was in the year of his admission 1957, a feeder-college to the University College Ibadan. Having passed his GCE A Levels, Abidoye was admitted to the University College Ibadan in October 1960 to study History. Abidoye also went to Syracuse University in New York State, U.S.A. where he did a course on Higher Education Administration graduating Master of Science (Education) in August 1969.
 
Career
 
Travels
In 1959 Abidoye was given a travel grant to attend a seminar in Rome, Italy being Student Union leader of one of Nigeria's only three colleges, the Nigerian College. In similar positions in the University College Ibadan, he also attended international student conferences in Addis Ababa, where he regrettably observed the restrictions of Ethiopian press under Emperor Selassie, many other African and even Middle Eastern countries. As a young university administrator looking to study more in 1968, he arrived in an America that was quite tensed due to the death of Martin Luther King Jnr. among other things.
 
Contemporaries.
Olu Falae, presidential aspirant in 1999 Nigerian election was a fellow student in the University College Ibadan. While he was Faculty Officer, Hezkiah Oluwasanmi, who became Vice Chancellor of the University of Ife, was the Dean of the Faculty of Agriculture. Abidoye was the Personal Assistant to Adeoye Lambo, Vice Chancellor whose greater renown was in psychiatry. The first Executive Secretary of the National University Commission, Jubril Aminu, Federal Commissioner for Education during the Alli Must Go case, Ahmadu Alli were friends during undergraduate days.
 
Philosophy of Education
Being a sponsored student bond by law to teach for five years after University education, Abidoye left for Ipetumodu to his new appointment as Origbo Grammar School Vice Principal in 1963. He would leave prematurely however in an effort to pursue a diploma in London but fate prepared for him a career back home in the University of Ibadan. The career which began with posting as Faculty Officer was followed rapidly by transfers to Admission and the Vice Chancellor's Offices. This was punctuated by further studies abroad. At his return, Abidoye wrote, his wish to put his newly acquired knowledge into use proved difficult due to misconstruction. However, his memorandum in 1970 suggesting the creation of new offices within the Vice Chancellor's was published and acted upon in subsequent years. This encouraged him to pen his philosophy of University administration. In 1971 he was coopted in the Task Force which laid out schemes for the running of a campus in Jos conceived by the university to reduce the educational gap between the north and the south. With the exit of Vice Chancellor Adeoye Lambo and replacement with Oritsejolomi Thomas, Abidoye became the Students Affairs Officer. Although he had published a critical appraisal of Federal Government's decision to form the National Universities Commission; a body to advise on issues of higher education, he was appointed as Head of Administration of the new body in 1975 under the chairmanship of Simeon Adebo and with Jubril Aminu as Executive Secretary. Military Governor of Oyo State David Jemibewon invited Abidoye to serve in his government as a commissioner in 1976.  He was sworn in in March and assigned the portfolio of of the Ministry of Trade. The College of Education in Ilesa was established during his headship of the Ministry of Education.
 
Motivation
The narrowness of Abidoye's victory at his first Student Union election in the Nigerian College of Arts, Science and Technology may have instilled in the young man the virtue of detailed planning. He relates this experience as paradoxically launching him into student politics. His leadership at UI had earned him a place at the Faculty Office after graduation.
 
Accomplishments
Abidoye drafted the original memo which was the first step towards the setting up of JAMB with a view of finding ways out of the difficulty which university admission process of the 1970s portended. He was also a foundational member of the National Directorate of the NYSC. In his role as an administrator in the University College Ibadan he proposed and initiated many ideas and put forward innovations in formulating strategies by which the University could attract funds.