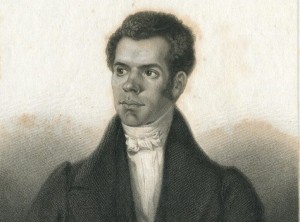 Thomas Birch Freeman was a Methodist minister and first preacher of the Christian gospel in Nigeria. Freeman was a mulatoo of black and English parentage, born in 1809 in Hampshire, England. He arrived in West Africa in 1838, a year after he was accepted as a Methodist missionary. At this time, some Saros who had become Christians in Sierra Leone and had made their way back to Abeokuta had asked the Wesleyan mission for help. From Badagry where he landed on Saturday 24 September, 1842, he made his sermons in the absence of a church, under the historic Agia Tree.
Freeman left for Abeokuta at the written invitation of the Egba leader, Sodeke. In his memoir, Freeman writes, "I shall never forget the joy which beamed in their countenances as they seized me by the hand and bade me welcome." He preached at Sodeke's square and presented a copy of the Bible to him. He stayed ten days, and was released by his host, most reluctantly, for the work that awaits him in Badagry. Their departure was emotional. He spent the Christmas of the year with Henry Townsend, who just arrived, and who was bound for Abeokuta in the interests of the Church Missionary Society.
In 1854, Freeman again visited Abeokuta, meeting Shodeke's successor, Somoye, who gave him a piece of land promised the decade before, for the purpose of building a Mission house. On his return home, he married and educated an African woman who bore him four children. His wife with whom he left England for Gold Coast had died years before. Finally, Freeman returned to Ghana, leaving the Methodist church in the hands of Williams De Graft, one of the first educated Ghanaians, who accompanied him to Badagry. His final days were spent in the Methodist Mission House in Accra where he often involved himself on the subject of botany. He became late on August 12, 1890.