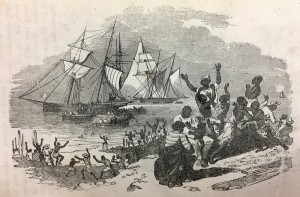 Saro, a descriptive term apparently coined from "Sierra Leonean," is a class of urbanized Yoruba former slaves that emerged in the nineteenth century following the 1807 British outlaw of slave trade. They were the ones, or children of those liberated by the British navy from slaving ships on the high seas. Many of these returnees were Christians, and Western-educated teachers, traders, and skilled artisans. In Sierra Leone, where they came from, they were known as the Akus, from the Yoruba salutation word, aku, eku, or oku. This people were distinguished among other tribes of liberated Negros for their great ability in buying and selling to their advantage.
In  c.1838, a Saro sailing party arrived in the course of trading down the coast, at a familiar site. Since then, Abeokuta had received a significant number of these returned exiles from Freetown, Sierra Leone. They relayed to Sodeke, the Egba leader, and their kinsmen, of the beneficent acts of the English people and how they were been educated by the missionaries, preparing the way, by so doing, for the advent of the Church Missionary Society.
Saros moved to Lagos from the interior in search of economic opportunities, swelling the city's population from 5,000 in 1800 to 74,000 by 1911. They played a significant role in the spread of Christianity and Western education in Lagos from the late nineteenth Century. They became influential in the economic and political life of Lagos.