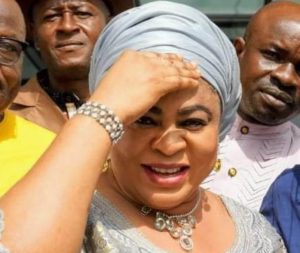 Stella Oduah; Aviation Minister in President Jonathan's administration believed to be one of president's close confidants. In the wake of Oduah's scandal, opposition believed the president, from the way he handled the issue can be seen as an accomplice[i]. In spite of several counter allegations of corruption in the Aviation Ministry that cost her job, she won the Senatorial North seat in to represent Anambra Federal constituency in the nation's eighth National Assembly.
Born in Akili-Ozizor, Ogbaru Local Government of Anambra State on January 5,1962 to the royal family of Igwe D, (Oduah, she started her early education in Nigeria before going to the United States where she obtained Bachelor's and Master's Degree in Accounting and Business Administration. She graduated in accountancy from St. Paul College Virginia, USA. Upon her return to Nigeria, she joined the Nigeria National Petroleum Corporation (NNPC), subsequently set up Sea Petroleum & Gas Company Limited (SPG), an independent marketer of petroleum products in Nigeria.
Stella's company rose from a humble beginning to become a leading company in the competitive oil industry. She was later involved in President Goodluck Jonathan 2011 campaign from the formative stage. She handled a sensitive office of Director of Admin and Finance at the Goodluck Support Group (GSG) office and latter held the same position during the general campaign[ii]. Efforts were made by Oduah to establish a national carrier for the country nine years after former President Obasanjo's administration liquidated Nigerian Airways in 2003[iii]. The Economic Financial Crimes Commission, EFCC invited Oduah for questioning in 2017 for intransparent procurement of two BMW armoured vehicle at N225m while she was minister. Stella Oduah's attempt to stop her arrest over the purchase suffered setback as a Federal High Court in Abuja dismissed her application[iv].
Extrovert Oduah prides in the number of people in her employ and philanthropic works in her credit which include potable water project at Ogbaru, construction of a school building at the Little Saints Orphanage, Lagos, annual scholarship for 36 indigenes of Ogbaru from primary to university level and building of an ultra-modern secondary school in Akili, Anambra State[v].
[i] Guardian, December 15, 2013
[ii] Guardian, April 14, 2015
[iii] Punch, July 4, 2013
[iv] Punch, June 21, 2017
[v] TELL December 6, 2004