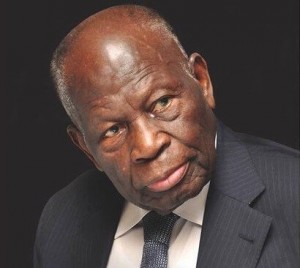 Akintola Williams; the doyen of chartered accountants in Nigeria. Williams is Nigeria's first chartered accountant. Impressed by the high standard of accounting practice in the United Kingdom, he saw a need to organise and professionalise it in Nigeria. To this end, he arrived home in 1952 to establish, at 32, Africa's first indigenous chartered accounting firm. He also founded the Institute of Chartered Accountants of Nigeria, ICAN, and was its pioneer president. Akintola Williams' Delloite, believed to be Africa's largest professional services firm outside South Africa was in 2007 enmeshed in questionable audit[i]
Akintola was born August 9, 1919 in Olowogbowo, Lagos Island. He was an alumnus of Baptist Academy, and King's College, Yaba Higher College, Yaba, all in present Lagos State[ii]. Akintola blazed the trail in the accounting profession as his younger brother, Rotimi Williams did for law.
 
Career
Akintola made history way back in 1950 when he was admitted as Associate of the Institute of Chartered Accountants in England and Wales, having passed the December 1949 final examination of the Institute. He was a co-founder of the Lagos Stock Exchange (now the Nigerian Stock Exchange), just as he was the co-founder of Bentworth Finance Limited, the first hire purchase finance firm in Nigeria. He has variously been appointed chairman and board member of many reputable companies which include Dunlop Nigeria, John Hoit, Nigeria Tobacco Company, BEWAC Limited and Van Leer Containers (now Greif Nigeria Plc.).
 
At the time when law and medicine were the professional attractions of young Nigerians, a handful of Nigerians like Zaccheus Ososanya and Bankole Cardoso both of whom qualified as certified accountants in 1954, and Adekunle Osindero and Abiodun Subair who qualified as Chartered Accountants and Incorporated Accountants respectively in 1955[iii]
In 1982, the Federal Government awarded Akintola the Order of the Federal Republic for his contributions to the accounting profession and national growth. In 1997, Queen Elizabeth honoured him with the Commander of the British Empire. Even before the merger, the Akintola Williams pedigree was a major factor that attracted for the accounting firm big local and international clients, most of them quoted on the Nigerian stock exchange. The Delloite global connection has, since the merger, been an added impetus in winning multinational accounts.
 
[i] The News March 24, 2008
[ii] Insider August 25, 2008
[iii] TELL June 4, 2007