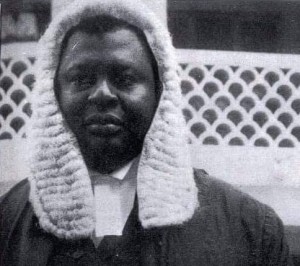 Frederick Rotimi Alade Williams; Lawyer and member of the British Institute of Comparative Law. F.R.A. Williams is the first Minister of Justice and Attorney General of the defunct Western Region. Born on December 16, 1920 to Thomas Ekundayo Williams, himself, a lawyer, and Lande Williams, F.R.A. attended CMS Grammar School, Lagos, 1934-38 and Selwyn College, Cambridge, UK 1939-42. In 1943, he proceeded to the Gray's Inn, London, where he graduated as a barrister at law and was called to the English Bar that same year. After graduating, Williams distinguished himself in legal profession and no lawyer in this clime has mastered the arts of legal cross-examination and systematic sourcing of evidence. He was the first president Nigeria Bar Association, NBA, 1958-68; and the first Senior Advocate of Nigeria, SAN, 1975. With the sobriquet of Timi the Law, Williams was the doyen of the legal profession until his death in 2005. Children, Ladi and Folarin, like their father, are lawyers. Ladi is also a SAN[i].
Career
Akintola was a member of the Action Group and subsequently became the minister for local government and justice. He was the president of the Nigerian Bar Association, NBA, in 1959. He left politics in the 1960s to devote his energies more to the practice of law. When FRA, as he is popularly called, appears in court with his massive frame, other counsel and even judges defer to him. He said to be a moving law library, a repository of law and a first-class brain. He is a director of G, Cappa Construction Co., Kaycee Nigeria, Parialpina: World Transport Nigeria, Phoenix of Nigeria; Assurance Company, and several oil companies.
Following the shooting of 21 Enugu miners by colonial authority in November 18, 1949, Rotimi Williams and members of leading parties likes Dr. Majaand Bode Thomas forged a united front. The colonialists quickly banned it and the old rivalry between the NCNC and the Action Group resurfaced and soon the united force was broken[ii]. Himself and Western region premier, Ladoke Akintola were soulmate in Law and politics before the killing of the latter in 1966[iii]. Williams boasts of having one of the most flourishing law firms on the African continent. He was conferred with two national honours — the Commander of the Order of the Niger, CON, 1960 and Commander of the Federal Republic, CFR, 1978[iv].
[i] The News October, 2002
[ii] Vanguard September 30, 1995
[iii] Westerner December 7, 2009
[iv] TELL December 22, 2003