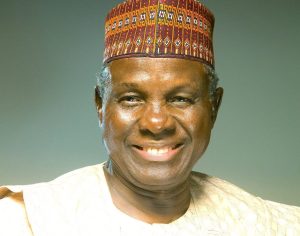 Jerry Gana; senator of the Federal Republic of Nigeria. Chairman, defunct Mass Mobilisation for Social andEconomic Recovery, MAMSER, Minister of Agriculture and Natural Resources, Information and Culture, Cooperation and National Orientation. Jerry Gana, a professor, was also political adviser to President Obasanjo. Gana was a foundation secretary of the ruling People's Democratic Party; PDP, ruling party from 1999-2015, first national vice chairman of the PDP, North-central, and later secretary of the party's Board of Trustees before contesting unsuccessfully for the party's ticket to the 2007 presidential election[i]. Gana was sacked from his position as adviser on political matters allegedly because of the shoddy manner the president perceived that his adviser handled the third term debacle[ii].
Jerry was born in Busu, Near Doko Lavun, Niger State on November 30, 1945. He attended Government College, Bida, 1960-64; Okene Secondary School, 1965-66; Ahmadu Bello University, Zaria, 1968-70; and University of Aberdeen, Scotland in 1974[iii], the year he got married to wife, Lucy with whom he raised two daughters. Gana became professor of Geography and Rural Development in 1989. He was appointed Minister of Information and Culture, 1993-95, Minister for Integration and Cooperation in Africa, 1999-2000; Minister of Information in 2000[iv]. As Information Minister under General Sani Abacha regime, Professor Jerry Gana had then treated Daily Times specially. He left in place a board and an audit committee to satisfy the legal requirements of a public liability company[v].
While a geography lecturer at the Ahmadu Bello University, Zaria Gana had became head of the  Directorate Directorate for Social Mobilisation, MAMSER in 1987. Harping on self-reliance and social justice, he took the organisation a long way in achieving its initial objectives. These include mass literacy, and political enlightenment towards politics of the Third Republic[vi]. Jerry Gana made the third in the choice of Vice Presidential candidates, together with Adamu Ciroma and Abubakar Rimi while President Obasanjo was scouting for a running mate in 1998[vii].
[i] TELL November 27, 2006
[ii] The Source, July 9, 2007
[iii] The News, December 6, 2004
[iv] Newswatch Who is Who
[v] Tempo, November 9, 1995
[vi] TELL July 8, 1991
[vii] TELL February 19, 2007