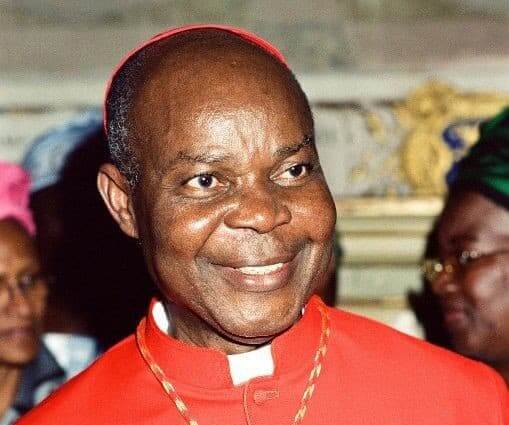 Olubunmi Okogie;  Cardinal of the Roman Catholic Church  and Archbishop of the Lagos Archdiocese. In the home front, Okogie played the role of a Christian leader and activist. In May 1990, he raised the alarm over moves by the government of Ibrahim Babangida committing Nigeria, a secular state into joining the controversial Organization of Islamic Conference OIC, a disclosure which almost brought IBB's junta to the precipice. Okogie led a successful crusade against the government's take-over of mission schools in the late 70s. Also, he was at the fore-front of the pro-June 12 campaign to actualize the victory of MKO Abiola who was a Muslim[i]. He holds the title of Cardinal Priest of Santa Maria del Monte Carmelo a Mostacciano (or in English Blessed Virgin Mary of wit, Carmel of Mostacciano) [ii].
Origin
Okogie was born on 16 June 1936 in Lagos to staunch Catholic parents; Prince Michael Okogie an Ishan father who was from the lineage of the Onogie of Uromi, his hometown and Lucy Aduni Okogie (Nee Afolabi), a Yoruba mother.
Childhood
The young Okogie imbibed the doctrines of Catholicism at the Holy Cross School, Lagos; St. Patrick's Primary School, Sapele. Early in life he made a choice to led a priestly life.
Education
For priesthood training, Okogie attended St. Theresa's Minor Seminary and SS Peter and Paul Major Seminary both in Ibadan after which he travelled to Urban University, Rome for further theological training. After further training in Rome, he was ordained a priest in the Priestly Order of Melchisedek on 4 December 1966 at the Holy Cross Catholic Cathedral, Lagos. He holds a licentiate in sacred theology.
Church
Okogie started serving in the church at the age of 30. Two years later, he was deployed to the war front during the 30-month-old Nigerian Civil War as a chaplain attached to the Benjamin Adekunle's 3rd Marine Commando and an instructor at King's College. After his war experience Olubunmi Okogie was consecrated as the Auxiliary Bishop or Vicar General of Oyo Diocese on 29 August 1971, a very unpopular move by the people of the diocese who felt slighted due to his ethnicity. A day after his 37th birthday, he was made the Archbishop of Lagos, following the demise of Archbishop John Kwao Aggrey on 13 March 1972. Growing from a very intimidated young clergy, Okogie steadied over time to become even the president of the Christian Association of Nigeria, CAN (1988 to 1996), and two times president of the Catholic Bishop Conference of Nigeria. Okogie was consecrated as cardinal of the Catholic Church alongside 30 others by Pope John Paul II in the Vatican City on Tuesday 21 October 2003[iii].
 
[i] The News March 31, 2008
[ii] The News December 13, 2004
[iii] Tell October 13, 2003