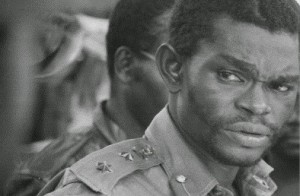 Benjamin Adekunle; nicknamed Black Scorpion, was a soldier who served during the Nigerian Civil War as commander of the 35,000 man strong marine commando. As a man of flamboyant, outspoken and temperamental personality, he was deservedly surrounded by myths. Without formal approval from the army headquarters, he had bequeathed with a fierce name, the Third Marine Commando division which he led. Such was the least among his assertive actions, some accounted as insubordination. In the session in which Adekunle was commandant; the whole south front from Lagos to the border of Cameroon, he did not tolerate the Red Cross, Caritas Aid, or UN delegation, therefore stopping many thousands tons of food that were stored in Lagos from getting to the refugee camps.
Place of Growth
Benjamin Adekunle was born on June 26, 1937 to parents who were Ogbomoso natives. He had his elementary education at Dekina Primary School before proceeding to Government College, Okene, where he had his secondary school education between 1951 and 1957.

Childhood
Adekunle grew up in Kaduna where he picked up the Hausa language. This was after he had learnt the Igbo language in addition to his Yoruba mother tongue. In the secondary school at Okene he gained notoriety for his quarrelsome nature and was nicknamed Maja, meaning, "do not fight".
Education
Adekunle enrolled in the Nigerian Army in 1958. After attending Officer Cadet Training School, Teshie, Accra, Ghana in 1958, Adekunle went to Officer Cadet School, Aidershot, England, in 1959. Between 1960 and 1961, he was at the prestigious Sandhurst Military Academy, England. He also attended Defence Services Staff College, Wellington, India, between 1964 and 1968.


Army
Adekunle joined the Nigerian army in 1958. After a long string of military courses, Adekunle was appointed platoon commander, 1st Battalion Nigerian Army, and, later, aide-de-camp, ADC, to the governor of Eastern Nigeria, Sir Akanu Ibiam, in 1962. He was staff captain to Brigade Headquarters, United Nations Peace Keeping Force, Lulaborg, Congo in 1963. Upon his return, Adekunle was appointed adjutant-general, Nigerian Army between 1965 and 1966. He was later appointed brigade commander, Lagos Garrison, in 1967.
Adekunle Benjamin was recalled from the war front abruptly in 1969 and made director of training and planning, Supreme Headquarters, Lagos, in June 1969. In May 1970, he was appointed military commandant, Port Decongestion Task Force, Nigeria Ports Authority, at a time the ports were overflowing with uncleared goods. Although it was a tough task, he, nevertheless, brought his military training to bear on his assignment and, in a record time, he successfully decongested the ports. He was promoted brigadier in 1972 at the age of 35. Adekunle was retired from the Nigerian Army on August 20, 1974.

Civil War
Adekunle commanded the brave Bonny Island Landing on 26 July 1967. He captured Escravos, Forcados, Burutu, Urhonigbe, Owa and Aladima, Bomadi and Patani, Youngtown, Koko, Sapele, Ajagbodudu, Warri, Ughelli, Orerokpe, Umutu and Itagba, Port Harcourt, Calabar, Aba and Owerri before it was recaptured. The news of Owerri re-capture, apparently blamed on his resistance of the Head of State, Yakwubu Gowon's delegations, made it imperative for him to be relieved of the post. With Adekunle's commando division, Olusegun Obasanjo would go ahead to win the war for Nigeria. Benjamin Adekunle was promoted to Brigadier-General in 1972. On August 20, 1974, he was compulsorily retired from the Army. Adekunle's exploits as a military man were recounted in a biography written by his son; The Nigeria-Biafra Letters: A Soldier's Story.