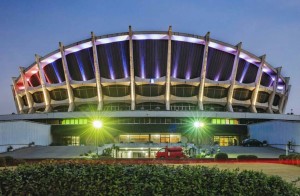 National Theater, a Nigerian architectural monument, was launched in 1976 by the Head of State, General Olusegun Obasanjo as a venue for the second Festival of Arts and Culture (FESTAC), which was to hold in 1977. The building, standing at over 31 meters and covering an expansive land of 23,000 square meters, was designed after the Palace of Culture and sports in Varna, Bulgaria.
The National Theatre has 7 floors, and consists of a banquet hall that has a seating capacity of 2600 seats; 200 tons of cooling system and 50 watts sound system as well as an Auditorium for 5000 spectators. It also comes with two vast exhibition halls and two cinemas with a seating capacity of 800 each. There is a parking lot for 150 vehicles, 80 office rooms, snack bars and a coffee shop.
In 2001, the Nigerian Government headed by President Obasanjo considered the sale of the National Theatre complex due to the privatization program of government owned assets in the country. The conception of the sale induced irate disapproval from the populace. The Federal Government tried but to no avail to convince the public that the privatization of the complex would be rewarding and has since reclined to watch it's continued decay.
In April 2013, a new development stemmed concerning the use of the National Theatre. There was uproar after reports that the National Theatre would be handed over to private owners who would replace the complex with a 5-star hotel. But the Lagos State Government pledged to challenge the Federal Government's resolution. One of the communities threatened by the Government's proposal for the redevelopment of the National Theatre is the Artistes Village also known as the 'little theatre' which is a center set aside for use during the Festival of Arts and Culture.