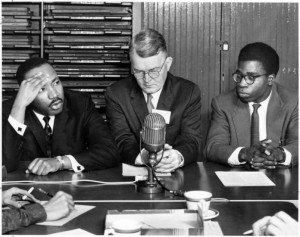 Bola Ige; lawyer, politician and writer, acclaimed as Cicero for his oratorical prowess and erudition. Ige became a Senior Advocate of Nigeria in 1997. He was assassinated on December 23, 2001 in his Bodija, Ibadan residence having left Abuja to wind down in his home stead for Christmas. Ige was member of the Alliance for Democracy, AD in the final years of his life and he made tremendous intellectual contributions to the PDP government of President Obasanjo during his first term in office[1].
Ajibola Ige was elected Executive Governor, Oyo State in 1979 and with the expiration of his tenure due to military intervention in Nigerian politics in 1983 he returned to private legal practice through his Bola Ige and Company, Solicitors, Ibadan. He went to prison in 1984 for what the military described as unlawful enrichment of the Unity Party when chairmen of local government donated buses to the party at the local government level. He and another party leader, Bisi Akande was sentenced to 42 years imprisonment of which three was served[2]. He was a member of NADECO and deputy leader of Afenifere, the prominent Yoruba cultural organization.
While a governor, a statement by his deputy, Mr S.M. Afolabi, that the office of the Ooni carries with it the chairmanship or the Oyo State Council of Obas caused resentment among 13 members of the council of obas and chiefs who on October 9, 1980 sent a petition to him as state governor[3].
Marriage
In 1960 Ige married Atinuke who was born to the famous Oloko family in Ibadan, a product of the University of Ibadan and Lincoln's Inn, London. Atinuke with whom he raised two sons and a daughter became a court of appeal judge in 1993, the position in which she retired in 2003[4], also the year of her passing[5].
Education
Ige was educated at St Joseph's Catholic School, Kaduna, 1936-41, St John's School, llaro, Ilesa, 1942, Ibadan Grammar School, Ibadan, 1943-48, University College (now University of Ibadan), Ibadan, 1949-55, University College, London, 1956-59. During his studentship at the University of Ibadan, Ige was vibrant as a student unionist[6].
Career
Ige was called to the Bar at Inner Temple, London in 1961 and he commenced private legal practice same year. He was appointed Commissioner for Agriculture and Natural Resources, defunct Western
State, 1967-70; Commissioner for Lands and Housing, defunct Western State, 1970. He became governor in 1979. He was since 1986, Publisher, Lady Love[7].
Minister under Obasanjo's Unity Government
Ige was appointed Federal Minister for Power and Steel in 1999 by President Obasanjo with whom he may have contested the presidential election had he won the primaries of his own political party. Believing the issue with National Electric Power Authority, NEPA was a human problem, Ige assured Nigerians that within six months, NEPA would be transformed. His stance will be proven wrong. He was seconded to the ministry of Justice to also serve as Attorney General of the federation in 2000.
Assassination
Ige was not under any serious threat except perhaps for the brush he had few days earlier with a political mob in Ile-Ife while gracing the occasion of conferment of a chieftaincy title on Stella Obasanjo, the wife of the president. The mob which was in sympathy with Iyiola, Omisore, the deputy governor of Osun State merely wanted to vent its resentment of Ige's siding with governor, Bisi Akande. Though fears have been expressed that Ige may have been consumed by the Osun crisis, certain indices however suggest that the plot and murder of Ige may have transcended the intrigues of Osun local politics[8].
President Obasanjo said in a radio broadcast, "The President Explains", on May 19, 2007, that the police had broken the mystery about Ige's murder and that a certain drug baron was linked to it. Ige was prosecuting a case which involved the said baron[9].
[1] TELL February 19, 2007
[2] The News February 2, 2009
[3] Punch December 14, 1980
[4] TELL April 7, 2003
[5] Newswatch May 19, 2003
[6] Punch July 2 , 2016
[7] Newswatch Who is Who
[8] TELL January 21, 2002
[9] TELL June 4, 2007