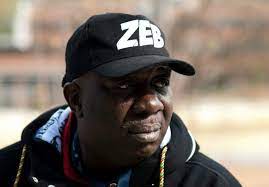 Zebulun Ejiro; Filmmaker who held sway in the Nollywood from the late 1980s to the next two decades. Ejiro brought about the renaissance of cinema in Nigeria when in 1997, he made Domitila, a movie about Ajegunle, which became a huge success for cinema exhibition. Ejiro is also known for 1998 movie Sakobi the Snake Girl, a topical film about fraud or 419 that was a main issue at the time. He also partnered Mike Okri, then a pop sensation, for the production of African Queen in 1995[i]. His Television soap, Ripples, aired from 1988 to 1993. Ejiro built in Delta State a significant edifice for his school on film and broadcast that is recognized by the government, on JAMB polytechnic list and approved by the National Board for Technical Education, Kaduna.
Ejiro met his wife when he was in Ajegunle and working as a casual worker at Lever Brothers. His wife's father was the area manager of the entire west of Glasgow Pharmaceutical. In one of the big houses that the man lived, there was a small room by the side which he occupied. This was all before he made a name for himself[ii].  Before he started writing for Second Chance, all the scripts Ejiro wrote were rejected because script editor, Mrs. Cordelia Eke, felt that he was not a very strong script writer. Equally, when he shot the pilot for his series, Ripples, he went to more than 46 companies in this country. They would look at the soap opera and admit that it was beautiful then they would ask for his name, once he mentioned his name, all they said was that they would get back to him because it rang no bell.
One day, after being tired of walking the length and breadth of Lagos in search of a sponsor, Ejiro went to the office of the director of programmes in NTA. There was a boy working with her and he begged him to help me dub copies of the series because he did not have money to dub more copies to give to intending sponsors. The boy said that his boss was around and he should wait till she had gone then he would help Ejiro. The boss left but as he began to dub some copies for Ejiro, she walked in because she forgot something. She noticed the machine was on, then she looked at the first picture, it caught her attention and she continued to watch. In a short while, she forgot that she had returned to pick something. She watched everything, then called the boy that was helping him out. The boss asked for the owner of the work and sent for Ejiro as well as all the departmental heads of NTA. When everyone assembled in her office, she played the tape again. The first 13 episodes were sponsored by NTA and when NTA started running the promo, John Holt and AJC World, companies that he had earlier gone to for sponsorship and rejected me rushed to NTA with their cheques. Luckily AJC World came hours before John Holt and they became its sponsor. Ejiro wept for joy the first day the first episode hit the air waves on October 6, 1988, airing to millions of Nigerians.
[i] FAME January 23, 1995
[ii] Punch June 17, 2017