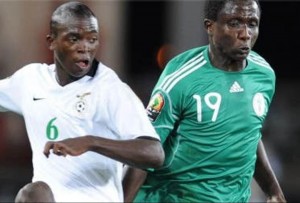 Yusuf Muhammed; Nigerian football player who once played for El-Kanemi of Borno, and Enyimba International of Aba. He later joined the Sudanese division one side, El-Hilal. Mohammed made his long expected international debut for Nigeria in a friendly match against Austria in Vienna on May 28, 2008. Impressed by his performance in the friendly game against Austria, Coach Shaibu Amodu found him good enough to play in the defence Nigeria during the Super Eagles World Cup qualifying match against Bafana Bafana of South Africa at the National Stadium, Abuja on July 1, 2008.
Growing Up
Father, a devoted Muslim, married two wives and had 10 children. Mohammed's  mother gave birth to nine, while the remaining child came from his step mother who left his father at a stage. Yusuf Mohammed was number three among the children born to his father, while he grew up among three boys and three girls his juniors with whom he shared good relationship.
Yusuf Muhammed was born on November 5, 1983 in Maiduguri, Borno State. His father, Mohammed Abdulahameed and mother Hajia Hadijia are traders in goods like clothes, jewelry and several other articles. Mohammed attended Mafone Primary School and Government College, all in Maiduguri for his primary and secondary education. He, like many of his contemporaries, started playing soccer right from his primary school days.
 
Career
Muhammed started his amateur soccer with Alfai Super Jets in Maiduguri and it was while he was there that Coach Iro Ibrahim worked on him and was able to convert him from an attacker to a defender. It was at the Super Jets also that his talents were noticed by a coach who took him to El-Kanemi where his career started blossoming.
Yusuf Muhammed was playing in Government College, and still with the Super Jets, when one of their coaches in El- Kanemi spotted him. Within a season, he joined the team. From El-Kanemi, he proceeded to Jigawa Golden Stars in the 1998/99 season. By 1999/2000 season, he joined Enyimba International, and also played an important role in the club's CAF Champions League successes. Yusuf Muhammed was in Enyimba for four years, and he played in all their Champions League matches. He played in all the matches for the two times they won the CAF Champions League. Apart from winning the CAF Champions League two times with Enyimba, he was part of the team that won the Premier League three times. At the end of the season, Muhammed moved to Sudan where he joined club, El-Hilal FC[i].
[i] Newswatch 14 July, 2008