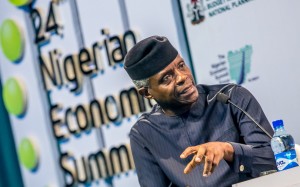 Yemi Osinbajo; Vice President of the Federal Republic of Nigeria under President Buhari. Osinbajo, a Senior Adocate of Nigeria who became professor of Law at the age of 33 is a former attorney-general of Lagos state and commissioner for justice. He is a resident pastor of the Redeemed Christian Church of God. As Vice Presidient, Osibajo supervised the Trade Moni federal government loan scheme for petty traders and rolled out means to ease business operations especially for Small and Medium scale enterprises. In 2017 when President Buhari went on medical leave, he took far-reaching economic measures to prop up the country's currency, the naira. He also made gestures indicating of his knack for feeling the public pulse, which included the restructuring of the country's increasingly Special Anti-Robbery Squad SARS accused of human rights violation. Osinbajo heads the president's economic planning team.
 
Childhood
Osinbajo was born on March 8, 1957 in Lagos with a grafted culture of merit even as a young school boy. He went to the Corona Primary School, Lagos, before moving to the all-boys institution, Igbobi College, Yaba, Lagos, between 1969-1975, his academic prowess led the way for him through these stages and he was recipient of prizes for English Oratory and History. Osinbajo distinguished himself in the West African Senior Secondary Certificate Examination of 1973, School Prize for Literature, and African Statesman Intercollegiate Best Speaker's Prize while in secondary school.
 
Family
Osinbajo is married to Dolapo, granddaughter of Obafemi Awolowo, former Premier of the Western region. They have three children.
Education
Osinbajo read Law at the University of Lagos, winning the Graham-Douglas Prize for Commercial Law at graduation from his department. He bagged a Master of Laws from the London School of Economics in 1981.
Lawyer
Osinbajo had over 31 years of litigation experience before venturing into politics. In his successful professional practice he conducted very important institutional and precedential cases before many courts in the country including the Supreme Court. Shortly after studies he was hired as a legal lecturer at his alma mater, becoming a senior legal lecturer in 1983. In 1988, Osinbajo was appointed an Adviser to the then Attorney-General of the Federation and Minister of Justice, Bola Ajibola under whom he served for many years. Subsequently he occupied the position of the Head of Department of Public Law, University of Lagos. In 1999, he became a member of cabinet, Lagos State Ministry of Justice, remaining in the system before finally climbing to the topmost position in the ministry.
While still in the Lagos public service, Osinbajo helped with the introduction of reforms in the Lagos State Justice system Directorate for Citizens' Rights which provides free legal services and legal representation to ordinary citizens who could not easily seek redress against injustices.
Punch May 30, 2015