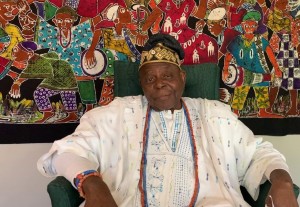 Elebuibon Yemi; Traditionalist from Nigeria. A number of publications by Elebuibon was translated into Spanish and he was a constant invitee to foreign forums notably from North and Latin America consisting often of audiences who like his teaching or initiation into Ifa pantheon. He is a Cultural Adviser to the National Black Theatre in Harlem, New York, San Francisco State University where he is a visiting lecturer, and a spiritual adviser to Wajumbe Cultural Organisation. Elebuibon is also an associate of Obafemi Awolowo University, lle-Ife's Department of African Language and Literature[i].
Elebuibon authored Healing Power of Sacrifice, Poetry Voice of Ifa (Iyere Ifa), Adventures of Obatala 1 & II, Irin Ajo Eda, Ifa: Custodian of Destiny etc. In the late 1970s he also veered into music, producing the evergreen Eniyan Won (Honest People Are Hard to Come By). In the early 1980s, Yemi Elebuibon's Ifa Olokun was featured on NTA Ibadan, where Amidat, actress of the Yoruba traditional theatre played lead role as Iya OtmAokun, was the first TV medium through which she hone her skills[ii]. Elebuibon's renown sprang largely from his creative exploit.
Travels
Yemi Elebuibon visited North America and Brazil regularly from the late 1980s in line with the appreciation of his skill and acknowledge, , since the late 80s has been visiting North America and Brazil every year while would be initiates come to him annually at his African Philosophy Institute (API). This year, he left for the US in March and returned at the end of August in part to come and prepare for his 60th birthday ceremony, prepare for his annual Ogbeyonu festival, which holds every October and put finishing touches to his new poetry collection entitled Ogota Ewi (Sixty Poems) and a DVD. The latter two items would be launched on October 12, 2007 as part of the 60th birthday celebration.
Places of Growth
Yemi Elebuibon was born on October 12,1947 in Osogbo. Under the tutelage of his Ifa priest father, Pa Akinrinde Akanbi Elebuibon Yemi grew up learning Ifa corpus. After about eight years of learning he moved to another Ifa savant, Faniyi Agbongbon also in Osogbo where he deepened his knowledge.
 
[i] Tribune October 9, 2007
[ii] Tell February 22, 1999