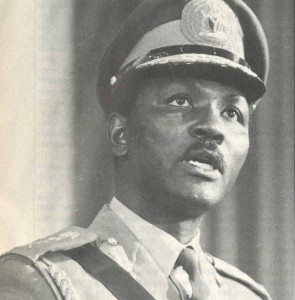 Yakwubu Gowon; War time Head of State of Nigeria, who reigned for nine years from 1966. Gowon became Nigeria's youngest head of state ever at the age of 32 years. When civil war threatened the very foundation of the country between 1967 and 1970, he in a mature manner kept Nigeria together after which he made his historic statement: "No victor, no vanquished". Such was the height of his prestige that he had to be persuaded to visit Britain at a time in 1973 when dozens of other heads of state and government were perhaps anxious for a similar honour. Gowon was co-founder, ECOWAS (with General Eyadema of Togo and full cooperation of all the leaders of West African countries) in 1975[i].
Son of Yohanna Gowon, an Anglican cleric, was born October 19, 1934 in Garam, Pankshin Local Government, Plateau State. He started education at St. Bartholomey's School (C.M.S) Wusasa, Zana, 1939-49; and also went to Government College (now Barewa College), Zaria, 1950-53. Gowon married Victoria Hansatu 1969, and raised one son and two daughters with her.
After attending Barewa College, Zaria, and other military courses both in Nigeria and abroad, Gowon was appointed Platoon Commander, BN Mortar Officer, Company 2/IC; Acting Company Commander, 1957-60. By 1966 he had become Chief of Staff, Nigerian Army. He headed the Federal Military Government and was Commander-in-Chief of the Armed Forces, 1966-75.
 
Regime
Gowon came to power as a Lieutenant Colonel with a counter-coup on July 29, 1966 orchestrated by elements who believed  General Ironsi was in on a scheme to concentrate power in the hands of his fellow ethnic members. As Head of State, he immediately created 12 states to make good his commitment to a federal Nigeria[ii]. Also, he transfered the power of the regions to the centre; so, his restructuring was both structural and legal framework in terms of devolution of power. His statement, "1976 date is unrealistic" haunted him until he was overthrown on July 29 1975 by General Murtala Muhammed. To many Nigerians, the coup was justifiable for Gowon had reneged on his promise to hand over power to civilians in 1974. But to Gowon who had gone to attend a conference of the heads of state of the Organisation of African Unity, OAU, in Kampala, Uganda, at the time of the coup d'etat, life went on. With a doctorate in Political Science, which he had obtained from Warwick University, England, Gowon could not visit his country because he had been declared wanted and divested of his rank of general in the Nigerian Army.
Following a state pardon granted by ex-President Shehu Shagari, Gowon joyfully came back home years later. His joy became fuller when in 1987 Ibrahim Babangida, military ruler, restored his rank. In September 1997 in Asaba, Delta State, Gowon apologized for atrocities of the Nigerian army in the Civil War.
 
Gowon's Economy
Soon after the war, Nigeria witnessed economic boom following the oil boom. Various enviable infrastructure are some of his enduring legacies. In order to improve trade with the outside world, Gowon changed the nation's currency from pounds, shillings and pence to naira and kobo. Gowon was occupied by the place of Nigeria in the fabrics of the global village and this formed one of the reasons that the next generation of military rulers gave for removing him from office as he is accused of squandering of Nigeria's resources in such far-away lands as Grenada and Guyana with no returns, economic or political for Nigeria[iii].
 
[i] Newswatch Who is Who in Nigeria
[ii] This Day July 28, 1996
[iii] Tell June 10, 1991