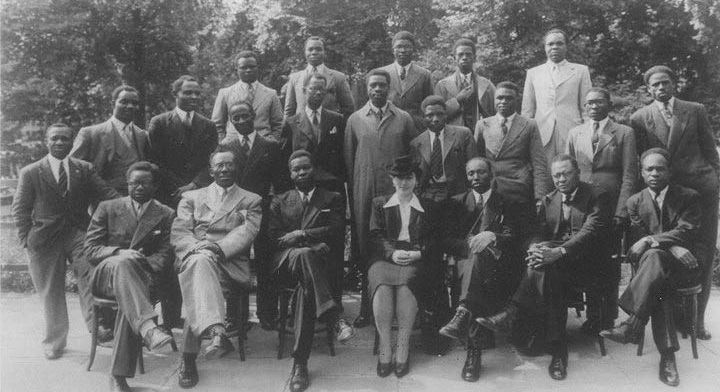 West Africa Student Union is an organization established by British West African students in London in 1925 to foster West African nationalism and in the founders' words; to combat the false and exaggerated views given to the world by strayed European travelers, anthropologists, missionaries, officials and film producers. WASU was founded on 7 August when the association's first meeting, with twenty-one British West Africans attending, was held at Ladipo Solanke's residence, NO. 5, Lancaster Road, Bayswater. From this number, membership strength grew to 120 in 1928. Original members were Ladipo Solanke, barristers Kusimo Soluade, Olatunde Vincent, Ekundayo Williams, M.A. Sarinola Siffre and B.J. Forreira.
There were various African organizations already in existence at this time, and a conference sponsored by the African Society and the Anti-Slavery Aborigines Protection Society had been held as far back as 1913 in London to consider the position of African students in the UK. Dissatisfied with the rather limited cultural activities of the Union of Students of African Descent, Ladipo Solanke co-founded WASU with Bankole-Bright, a member of the Legislative Council of Sierra Leone who was visiting London. The union launched its own journal also called the Wasu in 1926. A resolution was passed in London, in 1942, calling for internal self-government for British West Africa.
From inception, the group had conceived the idea of an African hostel in London and leaders of the association geared their activities towards the provision of those facilities. The hostel at 62 Camden Rd., NWI was leased, and it opened to students on 9 March 1933. The hostel served as an effective tool in promoting good feelings and better understanding between Africans and other races of the world. In a bid to replicate these achievements, Solanke went on a fund-raising tour in West Africa. By the time he came back in 1948, the Union had become very weak as attention was shifted away from it to emerging ethnic associations.
In Nigeria, branches of the West African Student Union were established at Ile-Ife, Lagos, Abeokuta, Ijebu Ode, Ibadan, Aago Iwoye, Jos, Zaria, Kano and Enugu.