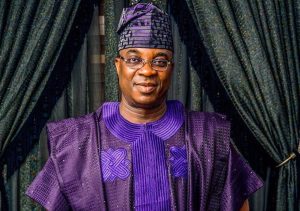 Wasiu Ayinde; born in 1957, the episodic odyssey of his career began in 1966 at the age of nine as a small-time amateur singer in Agarawu area of Lagos Island. He dropped out of secondary school to face professional music in 1973. From waking Muslims up with songs during Ramadan to being a packer boy for legendary Sikiru Ayinde Barrister, his mentor, Wasiu Ayinde, also known as Kwam1 rose from sheer obscurity to become one of Nigeria's most illustrious musicians. By the year 1987 when he led his band boys into the scenic dome of the awe-inspiring Hammersmith Hall in London to perform for the first time outside Africa, he had brought innovations into fuji music. He had also been credited with changing its face by making it more appealing to the elite and corporate class as well as the fun-loving youths. Yet, whenever he sang, questions arise whether he is just plain talking, rambling or singing.
Wasiu Ayinde's 1987 audience in London was unusual — predominant whites with a sprinkling of blacks. Despite extensive rehearsals, he could not help being overwhelmed by the audience. And for someone whose entrance was unheralded, his departure was a blaze of tumult. He gave the people a good dose of refined fuji. At the height of that night's performance, the audience, which though did not understand the language, could not help but dance away to the pulsating percussions and well-orchestrated drumming of theJuji star's up-tempo fuji beat. Years after, having released many riveting hit albums, among which are Talazo 84, Consolidation, and Legacy ,and with several local and international awards, he succesfully graduated from being a back street fuji act to becoming one of Nigeria's most illustrious musicians
In spite of his star status and acclaim, Kwam1, with the controversial title of Oluaye of fuji, has had his fair share of controversies, rivalries and doubts about his musical ability; whether he could sing for one hour without singing people's praises. This ability to sing he had shown many times in his album but praise singing remained part of his own subgenre. Since the days of Ayinde Barrister and Kollington Ayinla, Juju music has been synonymous with wrangling and enmity and Kwam1 has not been exempted. He has been alleged to have a perennial row with Abass Akande Obesere, the lewd Juju singer. A controversial statement was credited to Ayinde in 2017 about his denial of his mentor, Sikiru Ayinde Barrister as the creator of Fuji. His justification for this, as explained by another singer, Saheed Osupa, who condemned the assertion, is that Ayinde probably said so because fuji is an adaptation several kinds of music genres that began long in the past as combination of series of music[i].
In 2003, Kwam1 made a dual release; Big Deal, which got rave reviews in the media. In Big Deal he was able to diversify and experiment with many new things. The lyrical content, musical dexterity and having to pay homage to more than 400 people were all vintage[ii]. Wasiu Ayinde did a lot of alteration to fuji but the name did not changed. He modernised it in such a way that anyone can emerge to sing his own kind of fuji music. His attempt to introduce classical system into his music and calling it Talazo was resisted by people who continue to refer to his subgenre as Talazo fuji.
[i] Punch, April 9, 2017
[ii] TELL December 22, 2003