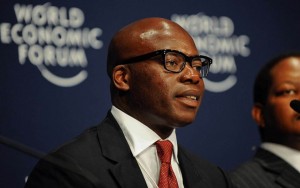 Wale Tinubu; oil magnate executive of Pan-African Energy Corporation with operations actively spanning all aspects of the energy value chain. Tinubu's group is the largest non-government owned Energy Company in Nigeria and has a market capitalization worth $1 billion. It is also the first Nigerian company to achieve a dual listing on both the Nigerian and Johannesburg Stock Exchanges. His business which started in 1996 as a small service company delivering fuels to the upstream service providers grew in less than two decades to become the largest indigenous oil and gas group on the continent. Though Tinubu started out as a lawyer in his father's firm, he decided on venturing into business haven tried his hands on profitable sales before as an undergraduate.
 
Childhood
Wale Tinubu, was born 26 June 1967 in Lagos.  In 1983 he left Nigeria to study law at the University of Liverpool in England. As an undergraduate, he traveled to Europe to buy luxury cars, using his school fees as capital. He drove round the country with the hope of selling at profit and his effort often met with success.
 
Education
Wale Tinubu's secondary education took place between at Federal Government College Odogbolu, from 1978 to 1983. He studied law at the University of Liverpool, England and obtained a Masters of Law degree (LLM) from the London School of Economics, in 1989, when just 22, specializing in International Finance and Shipping. He qualified to practice in Nigeria as a lawyer in 1990 and joined the family law firm, K.O. Tinubu where he was responsible for corporate and petroleum law.
 
Oando
Tinubu started his oil service company after a short stint as a barrister, growing its fleet from one ship to seven within a few years of operations. Within another four years, he started in conjunction with friends, to involve their newly formed company, Ocean and Oil Limited in providing freight to oil marketing companies, and later graduated to selling products on behalf of major oil marketing companies when they couldn't take the products into their system[i].
Tinubu seized the opportunity for which came in 2000 with the divestment of Federal Government's shareholding in Unipetrol, a leading petroleum marketing company. Government wanted to divest by selling 10% to the public and 30% to a strategic private investor. Tinubu and his two friends, Mofe Boyo and Jite Okoloko, all below the age of 35, decided to bid. By loan, and equity sales and personal cash, he beat the odds. In 2002, Unipetrol under Wale Tinubu acquired 60% equity in Agip Nigeria Pic from Agip Petroli International. Unipetrol later merged with Agip in 2003 and the new merged company was rebranded Oando Plc. With the merger, Oando emerged as the largest downstream company in Nigeria, with retail outlets in Benin, Ghana, Sierra Leone and Togo.
The Ocean and Oil Ltd. which he formed together with Jite Okoloko and Mofe Boyo in 1994 purchased 30% Federal Government equity in Unipetrol. In 2001, when Tinubu and his team made a shock purchase of Italian Agip Petrol's 60% stake in Agip Nigeria Plc, for $74 million, and after taking the controlling stake at an industrial gas supply company, Gaslink, they had fused the Unipetrol with Agip to form Oando. Under Tinubu's leadership, Oando had gotten listed on the Johannesburg Stock Exchange with a market capitalization of more than three billion South African Rand, the first African company to so do.
 
[i] Guardian April 11, 2015