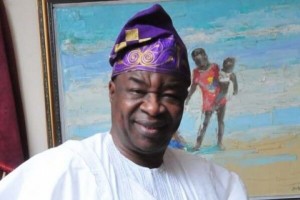 Wale Adenuga; Nigerian cartoonist and comedy show producer. Adenuga created Papa Ajasco and other characters of his skits in the first four years he was running his entertainment company as a one-man business.  While an undergraduate, Adenuga became the chief cartoonist of the most popular campus magazine called Viper. Later he developed this vocation into the production of Ikebe Super, comic book which became very popular.
Origin
Adenuga was born 1959 in Ile-Ife, Osun State, into a polygamous family of Joseph and Lydia Adenuga from Ijebu-Ode in Ogun State. Both parents migrated to Ile-Ife in 1940s and settled there. Adenuga was the first born of his mother who also was the third wife of the family. Joseph Adenuga, a successful businessman, was the major distributor for the Nigerian Tobacco Company, NTC, at Ile-Ife.
Childhood
Adenuga showed an exceptional amount of interest in music, fine art and drama in which he was also well talented. His flair for drama particularly commenced in his secondary school days. He had a musical band when he was in Ibadan City Academy and Kings' College. Since his HSC, Adenuga had shown a great ability to draw though he took no classes in fine arts.
Places of Growth
Adenuga attended primary school at Gbongan in Osun State and had his secondary education at Ibadan City Academy. He was also at Kings College, Lagos, for his Higher School Certificate, HSC. Thereafter, he attended the University of Lagos for a degree in Business Administration between 1971 and 1974.
Contemporaries
Adenuga's production TV series crew included Jimi Shodimu who was the first Papa Ajasco in 1983 and Peter Fatomilola who acted the part after him.
Experience
Adenuga started publishing in December 1976, and within a year, sales figures had risen enough to push the print run to 560,000 copies per edition. Adenuga took three magazines to the press concurrently: Ikebe Super, Super Story, and Binta. Subsequently, decline in economy and inflation became major challenges even as magazine became exceedingly popular. Print run dropped ultimately due to cost, and in the early 90s it became inevitable for Adenuga to find alternative means of projecting his jokes and so he had his written story converted to the story of Papa Ajasco & Company production of the AIT television series in 1997. In the year 2000, his company added Super Story TV series which also started with the stories from the Super Story magazine.
 
Westerner May 11, 2009