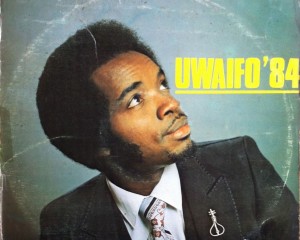 Victor Uwaifo; Nigerian musician. With his first album which was released in 1960 and titled Akugbe/Okhorhornu mu me" (meaning "unity is strength) Victor enjoyed an early success. In 1966, he became the first African to win a record Gold Disc. After what he called an esoteric encounter with mamy water or mermaid in 1967 at the Bar Beach late in the night during his days at the National Television Service, later NTA, Uwaifo sang Mammy Water, one of his hit songs. Having enjoyed a fulfilling music career which spanned more than three decades, Uwaifo served as the pioneer commissioner for arts, culture and tourism in Edo State from 2001 to 2003. In 2006 he started lecturing in the Fine and Applied Arts Department of University of Benin. Uwaifo died 28th August, 2021 at the age of 80 years.
Childhood
Victor was a disciplined child who made swift sound decisions. His parents were Baptists but his siblings and him were Catholics. Victor was enrolled into Catholic schools. He started playing music at the age of 12 when he played the guitar. On holidays, he would go to Lagos, play around and make some money. His interest in art grew alongside his music as he created artworks from bamboo to make toy cars with foil paper from guinea gold cigarette.
 
Education
Uwaifo was the best Art student in the Yaba College of Technology in 1963. After he had made money and fame in music and travelled all over the world, he went back to the University of Benin in 1993, at the age of 52, to read Fine and Applied Arts, emerging with a First Class Honours. He later enrolled in the master's programme of the university in 1996 and obtained a masters degree in Sculpture. A doctorate was awarded him as an academic staff of the university.
Family
Uwaifo have a wife and children who knew music and can play at least one instrument though as a hobby as they became professionals in engineering, accounting, and law. One is also a pastor.