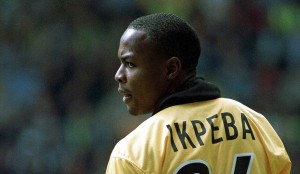 Victor Nosa Ikpeba; Super Eagles winger and striker, belonging to the golden and nostalgic era of Nigerian football when the national teams were a force to reckon with in African football. Fondly called the 'Prince of Monaco' by his admirers.Following his great outing at Olympic games Atlanta 1996, Ikpeba got the BBC African sports person of the year award1.
Origin
Ikpeba hails from Owhelogbo community in the present day Isoko North Council Area of Delta State. He took after his father, an Airforce military personnel, who played football for the Command team in his active days.
Places of Growth
Born on June 12,1973, young Ikpeba started football on the streets of Benin City, where he carved a niche for himself in the game. He started his elementary education at Crowder Primary School in Sapele under the guidance of his grandmother, although he normally visited his uncle, an Air Force officer, in Benin City. At Okpe Grammar School, Ikpeba became a 'warlord,' leading the school to conquer all oppositions in the prestigious Principal's Cup.
Family
Ikpeba was the first of three boys in the family lost his father at a very tender age, so his paternal grandmother, who was living in Sapele, took up the task of bringing him up.
Education
After secondary school, Ikpeba got admission into Yaba College of Technology in Lagos.
EXPERIENCE
Ikpeba was invited to the national under-17 team (Golden Eaglets) in 1988. He was part of Eaglets' team to Scotland '89 FIFA Cadet championship, where Nigeria lost out in the quarterfinal, Before taking his soccer trade abroad, Ikpeba had a spell with ACB Football Club in Lagos. That was after featuring for Eko Holiday Inn, an amateur club in the LAFA League, From one European club to another, Ikpeba hit the top of his football career at AS Monaco, a French side coached then by Arsene Wenger. His outstanding performance with Monaco, coupled with his contribution to the success of Nigeria's Dream Team at the Atlanta '96 Olympics, earned him the African Footballer of the Year award in 1997 Before then, Ikpeba had played a key role in Super Eagles' success at Tunisia '94 African Nations Cup, the second for Nigeria after the 1980 victory on home soil.
1. Guardian June 7, 2013