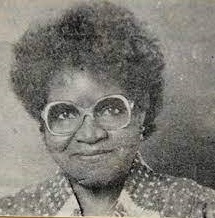 Gladys Aduke Vaughan; Educationist who was one of the first women to to found indigenous private primary school in Ibadan, pioneering with her efforts, quality private schools in Nigeria.  After the HSC, Gladys served as a pupil teacher for five years in many schools including St. Stephen's Inalende Ibadan, Oba Ademola School Abeokuta, and Sabo Memorial School Ibadan. After a three year study break in London she returned to a teaching appointment at Mary Hill Covent School Bashorun Ibadan where she was till the eve of 1 October 1962 when she established the Omolewa Nursery and Primary School. Although she had planned it to run as a mainly as a Nursery and Kingergarten institution for 2-3 years and 4-5 years old respectively, she was prevailed upon by parents to add the primary arm which she did in 1964. The school, established from her savings from earnings at Mary Hill started with eight children from a rented building at Awodi Oke, Orita-Mefa, Ibadan. Movement to the permanent site not far away commenced two years later. For thirty years she ran the school before relinquishing its administration to her daughter, Ibironke Vaughan-Adefope, trained as a public health specialist in America. Now bestrided with modern infrastructures, with about 1000 pupils. During the Nigerian Civil War she gave scholarship to children of war victims, adopted some, and cared for their education from primary to university level.
Origin
Gladys Aduke Vaughan's father, A.P. Akinloye was the only son of his father, a Muslim of the Egunjenmi family who was a successful trader. His marriage to Omolewa, whose name Glady's school would take years later, produced Glady's father, Akinloye. Like his father, Akinloye was a businessman and he combined cocoa farming as he took active role in the politics of his time. Glady's mother, Rachael Akinloye, was member, through birth, of the elite nucleus of pioneer Ibadan Christians. Her father, Samson Okeowo was a distinguished Ijebu man who made Ibadan his home. He was a reputed philanthropist and his home at Alekuso had been the place where the city's first secondary school, Ibadan Grammar School begun. Glady's mother, Rachel went to a girl's school but got married early.
Places of Growth
Gladys Vaughan was born 18 July 1920 at Itutaba, in the town of Ibadan, then populated by no more than 25,000 people. Her education began when she was five at Kudeti Girls, Ibadan, a boarding school where she was till 1931. While schooling at CMS Girl's in Lagos, Gladys lived with a certain Phillips family, the patriarch of which is reputedly called "the fighting bishop" on account of his fanatic stance on discipline.  Bible study and prayers were to be taken seriously.
Travels
Gladys was in England to pursue a Montessori training.
Family
Her elder brother, Justice Olayinka Odumosu was also a teacher in the 1940s. Her other brother Adisa Akinloye was a close political associate of Obafemi Awolowo. In April 1944 Gladys married Alfred Abiodun Vaughan, from an illustrious family of the Gbenla quarters of Ibadan, who were one of the earliest indigenes to receive Western education. With professional qualifications in Accounting and Cooperatives, Abiodun worked in the John Holt & Co. before joining the Ministry of Agriculture where he spent 25 years.
Contemporaries
Wuraola Akintola, the Iyalode of Ibadan was a senior at Kudeti Girls' School. Lady Jibowu was also in the CMS Girls' during Glady's studentship there. Emmanuel Alayande, the historian, who was a member of the Regional Board of Education in 1948 had a huge influence on her. Tanimowo Ogunlesi, and Mrs. Bolarinwa were like her, among the earliest propeirtress in Ibadan.
Affiliates
Gladys was a member of the Nigeria Red Cross and the Advisory Board on the Prerogative of Mercy.
 
Education
After acquiring the Standard Six certificate, Gladys left in 1933 for CMS Girls' School then situated at Broad Street, Lagos, which is now renamed Anglican Girls, Surulere for her secondary school which lasted six years, obtaining the Higher School Certificate. In December 1958, she enrolled to study Child Education and Child Care in the Wandsworth Technical College London, obtaining the National Nursery Examination Board Certificate in July 1961.
Motivation
Paternal grandmother, Omolewa who she never met was an item of motivation for Gladys. The Iyalode or head of the womenfolk, revered in her life for her philanthropy and counseling of young Ibadan town dwellers had been the reason for her other name Yetunde, given by her father in the willful believe that his daughter, Gladys was a reincarnation of the amazon. Gladys had received inspiration too, from the story of Ann Hinderer, mother of the church in Ibadan and wife of the missionary to Ibadan, David Hinderer, whose death in 17 July 1870 had occurred only one day amiss, fifty years before her birth.