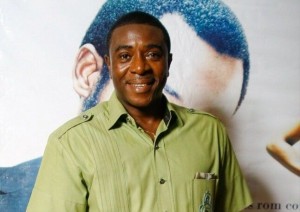 Bob-Manuel Udokwu; Nigerian actor, belonging to the first generation, pioneers of home video with the debut of Living in Bondage.
Childhood
Bob-Manuel's first stint with acting was when he was in primary two at St. Peters Primary School, Ogbete, Enugu. At Oraukivu Grammar School, in Idemmili Local Government of Anambra State, he opted for the debating society instead of the drama troupe, but his group was eventually instructed to present a stage drama for the end of the year Parents Day.  He was the king in the play and when his group won the first position received the king's honour in a king's robe.
Education
Bob-Manuel went to the University of Port Harcourt for a certificate course in Theatre Arts and emerged best student in his set, with a distinction. He re-registered at the University of Port Harcourt for a degree course in 1986 emerging with a good grade in spite of his acting activities which saw him often traversing Port Harcourt and Lagos.
Family
Bob-Manuel is from a family of six: three girl sand three boys, and he is the fourth child. His father was a civil servant and mother a business woman. His' was an artistic family; the father was a character player, eldest brother played football and sisters were good dancers.
Films
In July 1982, Bob Udokwu-Manuel saw a programme on NTA Enugu, and went auditioning, earning a role for the shooting the next day without a script. In 1989, Mind Rending by Lola Fani-Kayode, later Macaulay, was on, words were dropped on his behalf and he was invited by the Lola. What could have been his big break however didn't.
While in Uniport, Bob-Manuel abandoned not too important departmental productions as he wanted a national programme, a face in the crowd. After an initial career meet with Fred Amata, who watched him on stage at the University of Jos in 1986, he was introduced to a producer Ifeanyi Anyafolu, who was working on the 30 minute programme At Your service. On the next day, he showed up for the auditioning of for a new national production – the pilot of Checkmate.