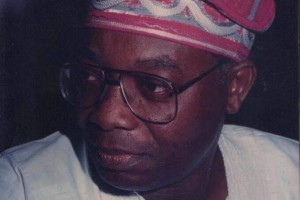 Tunji Oseni; Journalist and presidential spokesperson to President Olusegun Obasanjo. Oseni began his journalism career in 1967 at the Sketch newspapers where he rose to become its features editor and lead writer. In 1976, he became the editor of Sunday Times. Late in 1980, he left the shore of Nigeria to work with OPEC News Agency, first as its editor (international fora) and later as Editor-in-Chief. He came back to Nigeria and was appointed Director of News, VON between 1990 and 1993. He was all the while a visible member of the Nigerian Guild of Editors and Nigeria Union of Journalists[i]. In 2001, Oseni returned to public glare when he was appointed Senior Special Assistant on Media Matters to President Obasanjo. He died from complications of a respiratory disease in November 29, 2004.
Places of Growth
Born January 5, 1943 in Abeokuta, Oseni attended Saje Baptist Day School, Abeokuta, between 1949 and 1955. He proceeded to the famous Baptist Boys' High School, Abeokuta, for his secondary education.
Education
Oseni attended the University of Nigeria, Nsukka (1964-1966); University of Lagos (1966-1967), bagging a degree in Mass Communication. He also bagged a diploma in International Affairs from the University of Ife ( now Obafemi Awolowo University). His quest for more knowledge took him to the University of Minnesota, USA, where he bagged a Master's degree Mass Communication in 1975.
Journals
Oseni's journalism career began in the late 1960s at the Daily Sketch. There, he was one of the first Nigerian-trained journalists. He rose swiftly to the position of features editor and later deputy editor of the Daily Sketch in1967.  In 1976, he quit Daily Sketch to become the Editor of Sunday Times, at the time the most widely read weekly in Nigeria. Five years later, Oseni became editor and later Editor-in- Chief of OPECNA, the news agency of the Organisation of Petroleum Exporting Countries, OPEC[ii]. Oseni, at various times managing director, Daily Times of Nigeria Pic, editor-in-chief of Vienna-based OPEC News Agency, was elected the United Nations Association of Nigeria, UNAN's president in 2000[iii].
[i] Tell December 13, 2004
[ii] The News December 13, 2004
[iii] Tell May 1, 2000