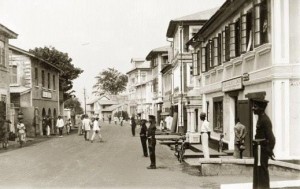 Tunde King was the first Juju musician to achieve upscale patronage. He is considered by some researchers on his Yoruba brand of music originated from Lagos area boys as a great influence on music of maestros like Sunny Ade, Commander Ebenezer Obey, and Shina Peters. Born August 1910 as Abdulrafiu Babatunde in the Sierra Leone returnees' quarters of Olowogbowo, Lagos. His father who was a chief Native Court clerk was among the freed slaves who were taken to Freetown and who later decided to go back to their native land. Although Tunde was a Muslim, he attended Christian primary and secondary schools in Lagos. He learned how to play the guitar from a classmate. In school, they sang Hymnal companion to which he was obliged to listen but he ended up playing it most times. Subsequently, he joined a group of rascally young men who hanged out at the mechanic's shop of a community leader.
As a teenager, King worked as clerk in the United Africa Company and he also performed music professionally on part-time basis. His band started as an informal trio with King on guitar. By 1935, his patronage network had expanded enough to enable his debut at the funeral obsequies for the medical doctor, Oguntola Odunbaku Sapara. King also sang at the Yoruba Tennis Club in 1936. For more regular engagements around this time, he required small amount several weeks in advance in a given night and generally charged about eight shillings (2USD) as a flat fee. While playing, the hosts and other guests would throw currencies to him and other members of his band. They made over fifteen pounds (37.50 USD) on a good night and there was even a reported case in which a woman threw a golden bracelet worth fifty pounds (250USD) to him while singing her praises.




Tunde's style, very down-to-earth, involves the use of deeply philosophical elements in conveying vivid messages such as the consolatory song done for Dr. Macaulay who lost his daughter. Like his other contemporaries, each of who laid claim to different Lagos territories, his performances flowed progressively to the moods of different social events, alternating praises for patrons and making general observations on city life. Elite native contacts helped secure Tunde King with the recognition of European players of the industry who enjoyed near monopoly. Parlophone took up King and paid him five shillings for each three minutes side plus a 1.5-penny royalty per gramophone disk.