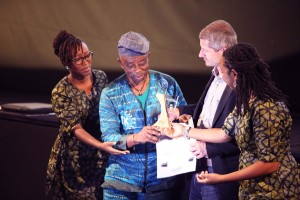 Tunde Kelani; Nigerian cinematographer. Using the vehicle of films and home video movies with Ti Oluwa. Nile 1 & 2, Kosegbe, Ote ku I & 2 and others, Kelani's Mainframe began a renaissance in the promotion of Yoruba culture at more elevated rather than a pedestrian level, usually informed by crass commercialisation evidenced In the works of the traditional Yoruba theatre practitioners. Kelani's productions are known for quality and his Mainframe unlike several other home video productions outfits, forged a symbiotic relationship with a creative academic writer. Professor Atonwumi Isola, his associate on this role is a prominent university don. Other talented writers Kelani worked with were Adebayo Faleti, Wale Ogunyemi and Bayo Adehowale[i].
Kelani was in love with photography as a youngster. He was once under the tutelage of photographer, Dotun Okubanjo in Lagos for some years before he was picked up by the Western Nigeria Television, WNTV and trained as a cameraman. Thereafter, his fascination with photographs which could "move and talk and practically do all he wanted it to do" informed his further studies in London, where he attended the London Film School for a Diploma In the art and technologies of Film Making. After working for Nigeria Television Authority, NTA, he left to establish Mainframe Television Production. The cross-cultural movie produced by Kelani, Abeni fetched him a prize at the African Movie
Academy Awards, AMAA held in Yenagoa[ii].  Kelani's work, Arugba, was shown at the international film festival, FESTPACO in February, 2009[iii].
In 2013, Kelani lent his voice to the public outcry which greeted a proposed amendment clause that would have recognized child marriage in the floor of the Senate[iv].
[i] Tell March 8, 1999
[ii] Tell March 26, 2007
[iii] Newswatch December 7, 2009
[iv] Punch July 24, 2013