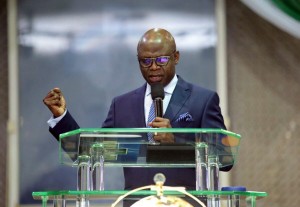 Bakare Tunde; Nigerian Pastor and running mate of Muhammadu Buhari in the unsuccessful 2011 presidential race. Born on 11 November 1954 to a polygamous Muslim family at Iporo Sodeke in Abeokuta, Bakare never met his father who died when he was only two. He was brought up by his mother, Abigail Ebudola Bakare. He attended Lisabi Grammar School Abeokuta, Ogun State, after which he studied Law at the University of Lagos.
Ministry
According to official records of his church, God showed Tunde Bakare in 1964 on the night of his circumcision, a glimpse of his future, which manifested in a dream from which he woke up in a pool of his own blood. In September 1974, while in a Baptist Church to take the photograph of a friend being baptized, a pillar of light like the one he saw in his vision ten years earlier was replayed inside the church. It was so dramatic he could not hold back. Bakare recognised it as a vision from God and as a call to service. Thereafter he was converted to Christianity. In 1984, he started his private law firm – El-Shaddai Chambers. That was after his legal tutelage at the chambers of the Gani Fawehinmi and Rotimi Williams. That same year, Bakare married Olayide, with whom he has five children. In 1994, after nursing the dream for 15 years, he established the Latter Rain Assembly, which he called "an Apostolic Community of believers whose purpose is to carry forward the purpose of the Kingdom of Heaven on earth."
Predictions
Controversial and outspoken, a couple of Bakare's prophetsy turned out to be right. When M.K.O Abiola contested for the presidential election in 1993 Bakare advised against it, prophesying that "he might not come out alive". Abiola died in detention. In April 1993, Bakare predicted that neither of the two existing political parties, the Social Democratic Party, SDP, and the National Republican Convention, NRC, would attain political power. Less than two weeks after the June 12 presidential election, General Ibrahim Babangida, then military president, cancelled the election. And when Nigerians were not sure whether Babangida would leave, Bakare prophesied, according to his people, that "on or before 27th August 1993, he (IBB) would make mistakes that would make him go." Babangida stepped aside. The Interim National Government that came to power, headed by Ernest Shonekan, was not spared either. Bakare described the government as a mere stopover. Shonekan resigned compulsorily. According to E-Life, Bakare, in 1998, went to Kano and at the Conference of Prophetic and Apostolic Churches, COPAC, prophesied that the city should expect the corpse of another Head of State –Murtala Muhammed was the first. Abacha died on 8 June that year. His prediction about President Obasanjo not attaining position of power a second time however did not follow that trend.